Paying a bill of $15 a year for sharpening a chainsaw chain sounds affordable. But when you are working with the chainsaw on a pretty regular basis, this bill becomes more than a burden.
So, why don't you get your own chainsaw chain sharpener and call it a day? At least a few hundred bucks of savings should be a piece of cake for every carpenter or woodworker out there.
Today, we are up to one such chainsaw chain sharpener and we are going to break down its specs. Let's give our self a few minutes to analyze the whole Timberline Chainsaw Sharpener and come to a decision in the end.
Let's get going-
Timberline Chainsaw Sharpener Specifications: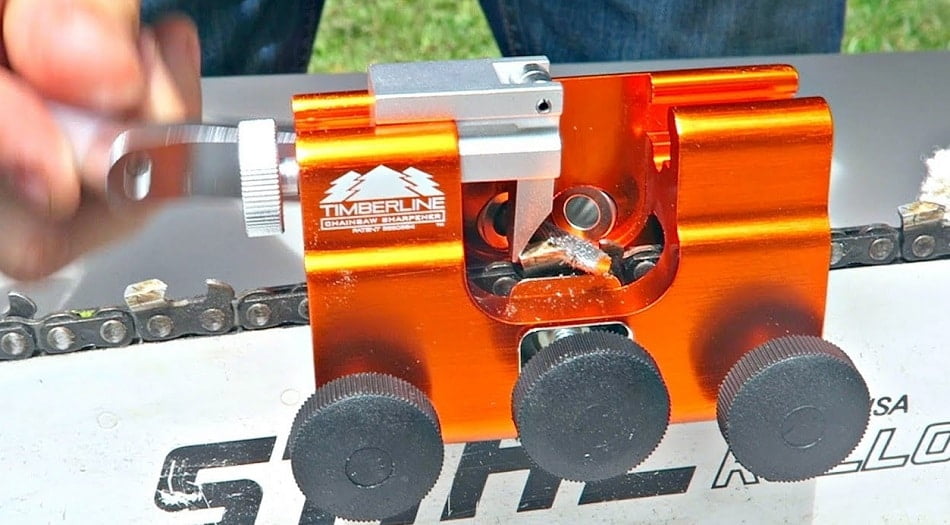 Sharpening Angles: 30 degrees, 35 degrees, and 25 degrees.
Sharpener Metal: Carbide
Sharpener Body Metal: Machined Aluminum
Length: 3/16 inches
Item Weight: 2 Pounds
Portable: Yes
Carrying Bag: Yes
Features and Benefits Of Timberline Chainsaw Sharpener Review
Below are the most important selling points of today's review on Timberline Chainsaw Sharpener. Keep reading-
Quite Hard Carbide:
The hardness of the carbide is better than any other regular files that are used in sharpening chainsaw chains manually. These characteristics of hardness make them wearable for a longer period of time. Also, it is more brittle than softer metals.
But to get the most out of the carbide, you have to ensure that you don't bind them while sharpening.
An Effective Center Knob:
A center knob is there on the top section of the sharpener. It's needed in case your bar is worn out and you have the chains flopping from one side to another.
In those cases, this center knob will push the chains over, and that can be done just with your finger.
Precision and Accuracy in Sharpening:
The design of this chainsaw sharpener is patented by Timberline- the brand. This newly designed tool can take your chainsaw sharpening precision to a whole new level.
While attached to the chainsaw, it sticks there on the saw body quite strongly. To make sure that no accuracy loss takes place, there are clamps to hold the sharpener firmly. Even, to make sure that the transition from one tooth to another becomes smooth, the clamps are designed smartly. All you need to pull the clamp to transit the sharpener from one tooth to another.
Ensures A Much Longer Chain Life
To make sure that your chainsaw chain lasts for a long, the amount of metal removed from each tooth while sharpening is kept low. So, you don't have to spend your bucks after a new chainsaw chain replacement anytime soon. In other words, the sharpener increases the chainsaw lifespan anyway.
A Wide Range of Sharpening Angle Diversity
The sharpener can work on the chainsaw teeth at three different angles- 30 degrees, 35 degrees, and 25 degrees. Making sure that you can choose the right angle at the right time, all three angles are offered separately. So, there is no chance to apply more than one angle on the same sharpening task.
A Side Knob to Work on Damaged or New Chains
Sometimes, the chainsaw chain can be either completely new or completely worn out. In both of the cases, the chain can come up with rough edges or burs. To deal with this situation, Timberline had provided a set of side knobs.
What these side knobs do is, if you loosen them up slightly, it will provide enough space of movement so that the carbide can move freely. As the edge seats on the chain, the vibration will smoothen up as well.
Timberline Chainsaw Sharpener Review
Fast Sharpens Each Tooth in Seconds
Precise Every Tooth Sharpened to the same Length and Angle
Durable High quality Machined Aluminum
Portable Take Everywhere and Sharpen Anytime
Easy Anyone can Sharpen a Chainsaw with Professional Results
Quite Fast in Action
Among almost all of the professional chainsaw sharpeners that we've come across so far, this model from Timberline is one of the fastest. By the word 'fast', we mean the execution time of the sharpening.
Certainly, when you are working heavily on a site, you don't have hours and hours to sharpen a chainsaw, right? This particular feature will come in help right then.
Precision in Sharpening The Chainsaw Chain
What if you see a few of the chainsaw chain to be unevenly compared to the others? It's completely disgusting for a woodworker, right?
But as long as you are sharpening the chainsaw with a timberline chainsaw sharpener, that is not going to take place at all. It can sharpen each of the teeth so precisely that the length and angle will be one hundred percent the same as each other.
Result? A smooth, precise, and effortless cutting operation with the chainsaw.
Comes in A Comfy Carrying Bag
To let you take your chainsaw sharpener anywhere you want, there is a comfy carrying bag. It comes with large and easy to operate straps, which ensures a safe and secure staying of the chainsaw sharpener itself inside the bag.
In case you want, you can attach hooks with this bag and hang it up on your shoulders right away.
What We Liked:
The carbide cutter can intake 40+ sharpening tasks.
Selectable size of the carbide cutter.
A precise and accurate sharpening tool.
Takes quite less time to sharpen any chain.
Made of durable, high-quality Aluminium.
Comes with a carrying bag to take it anywhere.
Offers sharpening angles of 25, 30, and 35 degrees.
Only a small amount of metal is removed from the chain.
Boosts the chain's lifespan.
Easy to transit from teeth to teeth for serial sharpening.
What We Didn't Like:
It would take quite some effort for an entry-level carpenter to adopt the device.
How to Use Timberline Chainsaw Sharpener
This is one of the most important parts of this whole Timberline Chainsaw Sharpener Review. Right here, we will take you through a series of tips and tricks that would help you to bring the most out of our chainsaw sharpener.
Here you go-
Check out some Top Rated chainsaw sharpener
Tip 1: Add oil if necessary
Adding a few drops of oil into the sharpener is quite effective when the sharpener is on duty. This will make the carbide shaft to spin freely on the guides. And to source the oil, you don't need to spend any money. The bar oil from the chainsaw itself would be fine.
Tip 1: Don't worry about the carbide wear at the 1st course
While the sharpening process takes place for the first time, the carbides experience the most wear. Because the carbide is not seated properly when the binding takes place.
Tip 1: Ensure An Even Length of Teeth
The length of the teeth is the key point when a chain sharpening process goes on. You can check the uniformness of the teeth with an adjustable wrench anyway. Set the wrench as the same size to the teeth and that's all.
If the teeth are not aligned in an even manner, it might not execute the sharpening properly. As a result, you might end up with a chainsaw that won't cut straight.
Tip 1: Don't Force the Carbide to Spin
Some novice users might try forcing the carbide to spin in case it doesn't. But you should know that that's a completely forbidden task. As you know, the extra force on the carbide will catch against the cutting tooth and that might cause wear or break of the carbide teeth anyway. And as an owner of the chainsaw, you don't want that at all, right?
Frequently Asked Questions
Question: Is there a carbide cutter with the chainsaw sharpener?
Answer: Yes. There is one single carbide cutter that you will get with the model. The size can be selectable based on your needs.
Question: How long does the carbide cutter last?
Answer: Based on several factory tests, it had been proven that the carbide cutter would last for at least 40 cuttings or sharpening. In case you use it carefully, it can handle twice the number of sharpening.
Question: How can I sharpen different sizes of chainsaws with one sharpener?
Answer: Different chainsaws might require different carbide cutters, and the size of the cutter will be different. Using the set screw on the handle, you can switch between different carbide cutter size variations.
Question: Where and how to buy additional carbide cutters?
Answer: You can purchase additional carbide cutters online. It can be either from Amazon or from the online store of Timberline sharpeners themselves.
Question: What size of carbide cutter do I need for my saw?
Answer: The answer to the question is quite broad. But you can follow the sizing chart for a more precise answer. Based on different models, it can be between 5 inches to 15 inches.
Bottom Line:
In case you are in search of the best chainsaw sharpener, this model from the inventory of Timberline can be the right one for sure. In fact, for those of us who own multiple chainsaws from multiple brands, owning this sharpening will be a great fortune.
Also, Read-
Good luck!