Woodworking chainsaws have a diverse range of uses. But using one of those for a heavy chore-like milling? Well, maybe the hardest nut to crack for a woodworker.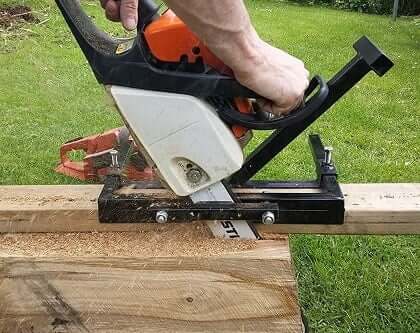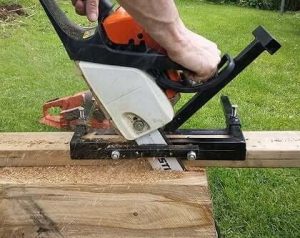 Therefore, you can't just get away with a light-duty, cheap saw. You need to bring on the trump card right on the board- the best chainsaw for milling.
And in today's post, we're going to unveil the secrets of it. Finger crossed!
On a serious note, we've been through over 54 of the milling chainsaw models which are so-called 'recommended'. But most of them were crap, literally.
On the brighter side, we're still lucky enough to pick up 5 of the most promising milling saws models whatsoever. And this post you're in right now, is the detailed piece of their analysis, discussion, and comparison.
For now, let's have a bird's eye view on the quick comparison chart, and dive into the detailed review section afterward-
Comparison Of Top 5  Best Chainsaw For Milling 2021
The 5 Best Chainsaw for Milling Lumber in 2021
Here is the top 5 chainsaw for milling, you can go for anyone, this link will take you to products page. Also you can go through our unbiased reviews with hand-picked recommendation.
1. Husqvarna Chainsaw For Milling – Husqvarna 460 Rancher
This is The Current Price of these Husqvarna 20 Inch 460 Rancher Gas Chainsaw (affiliate link takes you to Amazon.com).
When it's about having a good cutting length, you can hardly find any model which has more than 20 inches of bar length and good motor power. But at this point of the research, we've found something extraordinary. It's from the inventory of Husqvarna, and the name is Husqvarna 460 Rancher Gas Chainsaw.
Let us remind you at the first place that, it's the successor of the famous Husqvarna Rancher series. Previously at #1 slot, we've got the Rancher 455, and we're up to Rancher 460 right now.
The difference between these two Ranchers is- the motor power, the displacement, and the bar length. The motor power in 460 is 3.6HP, where the earlier version has 3.5HP. The bar length is 4 inches more in the 460, comparing to 455. And lastly, the displacement of 460 is 60.3cc, where 455 has only 55.5cc.
As you know, X-torq motors are the new cool when it comes to Husqvarna chainsaws. This one is no exception at all. The highly powerful 60.3cc motor provides great power and still consumes less fuel than most of the 50cc motors. On top of that, the emission level is significantly low. So, it is a good obeyer of the environmental laws as well.
Starting the chainsaw seems to be a big issue for mostly new woodworkers and contractors. Pulling those cords off and starting the machine seems to be a pretty much old school trend.
But look what we have here- the smart start feature. In Husqvarna 460 Rancher Gas Chainsaw, the startup takes a minimal effort due to its hassle-less system.
To remove the dust from the saw-inside is a problem that no woodworker wants to face. Also, cleaning air filters is another kind of maintenance chore that they don't like. This product is free of both of these issues. There is a centrifugal air injection system which removes the dust and debris particle from the air filter automatically.
As a result, you will get a clean and less messy air filter which requires not-so-frequent maintenance. Definitely, a thumbs up from our side.
Moving forward, it's one of the best selling points of Husqvarna 460 Rancher. Yeah, we're pointing to its the surprisingly large cutting blade. There is a 24 inches bar and chain length, which can cut tree limbs of up to 20-21 inches of thickness.
However, if you like everything else about the saw but the chain length, there are two more options for you. The 20 inches- 0.05-inch gauge, and the 20 inches- 0.058 inches gauge. You can choose the right fit, always.
The amount of vibration and fatigue sometimes exceeds the level of toleration. If you work in your home garage, this is even more disturbing. Thanks to the low-vibration design of this chainsaw. On top of that, it produces less fatigue as well. So, you don't need to hold the saw tight whenever you're working with it.
You can adjust the chain tension with the side-mounted chain tensioning setup. It's accessible with almost no effort as well. From several aspects, this Husqvarna 460 Rancher Gas Chainsaw has some significant upgrades than the previous 455. But in terms of the price, the models seem to be out of low-end range.
If you don't mind spending some extra bucks for the additional and improved features, we think Husqvarna 460 Rancher can be a good option for you.
What We Liked:
60.3cc highly powerful engine for heavy woodworking.
3.6 Horse Power of the motor, highly impactful against the hardwood.
X-Torq signature motor from the inventory of Husqvarna.
Smart air injection for hassle-free air filtering.
A massive 24 inches bar and chain length.
Can cut anything from thin softwood pellets to thick hardwood.
Comes as a low vibration and low fatigue design.
Adjustable oil pump.
2. BLACK+DECKER (CS1518) Chainsaw For Milling Lumber
This is The Current Price of these BLACK+DECKER CS1518 chainsaws (affiliate link takes you to Amazon.com).
Our next pick for the list is BLACK+DECKER CS1518 Chainsaw. Let's have a look at its features-
First thing first, it's the design and construction. The body of this saw is made of metal and hard plastic, and the overall weight had been kept light. It's may not be the most robust saw you can see, but for professional woodworking, it would be a good one to go.
Let's shift our radar to the powerhead now. Over there, you can see an oil cap, an oil primer on easily accessible positions. On the oil reservoir, there is also a translucent window which helps you to stay informed about the chain oil level. It's super important actually, right?
On the left side of the model, you'll find the power unit. As the motor is completely on Electric power, there is no hassle of battery charging. It's quite a hassle-free, minimalistic design that any woodworker would fall in love with.
The next question, what about the power source? Well, the CS1518 runs on a 15 Amp motor. It has some more advantages over another typical electric chainsaw.
The ampere rating of the battery is 2 amp/hour. That means, it can keep delivering a current of 2 amp for one hour at a stretch. If you take down the current level to 1 amp, then the delivery time would come into about 2 hours. Based on what purpose you're using the chainsaw with, you should choose between these two options.
The oiling system of this chainsaw is another selling point of the product. However, there is no automatic oil system. So, you have to remember whenever your machine needs to be oiled. The reservoir capacity is around 50ml. If you need a refill, there are oils available for the machine.
The total length of the bar and chain is 18 inches in total. That means you can deal with wood cutting jobs with wooden limbs of up to 16 inches. But this chainsaw is particularly made for lightweight woodworking. So we would suggest you stick to wood limbs of smaller thickness. This way, you can get most out of this chainsaw machine.
There are a number of safety measures taken into action in this model. Have a look-
To prevent any accidental starting, there is a safety lockdown button. In the rear handle, there is another guard, which serves the same purpose. The guard mainly prevents any flying debris to hit the hand of the user.
The kickback tendency of the machine is quite low. If handled in a proper way, there should be no kickback or back-thrust at all.
What We Liked:
A good pick for close quarter cutting.
Can work seamlessly in even tiny or tiny workspaces.
Can cut 200+ cuts of 1.5 inches thick wooden limbs.
Powerful 15 Amp motor as the power source.
18″ long bar and chain, able to cut wood up to 16″ thickness.
Safety wrap-around blade handle.
Tool-free chain tension adjustment.
Safety against flying debris towards hands.
Wireless, not restricted by cord usage.
What We Disliked:
No automated chain oil feeding system.
Not a good fit for heavy duty cutting.
3. Husqvarna 455 2-Cycle Gas Chainsaw For Milling
This is The Current Price of these Husqvarna 455 2-Cycle milling saw (affiliate link takes you to Amazon.com).
Husqvarna had been up to power tool manufacturing for about 60+ years now. Over time, they've brought up a number of good chainsaws for milling (and other works), and Husqvarna 455 sits at the top of the list.
It's an all-round chainsaw with great power, lightweight structure, and efficient output. We've got enough reasons to keep it at the top of our list. And we'll tell you them all-
The Husqvarna 455 is powered by their own X-Torq engine, which has its reputation to cut off fuel consumption by 20%. Apart from the oil, it's efficient in terms of emission as well. 75% emission is quite surprising for a 55.5cc gas powered chainsaw, and it's not a joke.
Moving forward, the 55.5cc engine can come up with 3.49hp power at max, and it's able to deal with heavy workloads. The engine is of 2-stroke type and provides one of the best power to weight ratio around the industry.
However, we would end up the discussion with one advice. If you somehow make up your mind to go with Husqvarna 455, you are advised to stick to gas with an octane grade of 87 or lower. Otherwise, the engine performance can get hampered a lot.
The length of the bar and chain is 20 inches in total, and it's one of the biggest selling points of the product itself. A unique fact about this chainsaw is its versatile bar length. You can 13 inches to 24. So, you can cut down tree limbs within a good variety of thickness.
The next question is- how easy it is to adjust the chain tension of Husqvarna 455? Well, you need to use a scrench or multi-tool for chain tension adjustment. But worry not, the process is quite easy. You'll have detailed help from the manual as well.
Coming to the safety measures, we've got two mechanisms employed in this model. The first one is an inertial chain breaker, and the second one is the front hand guard. The role of the first mechanism is to get activated when any upward movement takes place. And the role of the second safety mechanism is to activate the chain brake when pushed forward.
As a combined effort of this duo, there will be less kickback and less accidental opt-ins. So, you're safe from those horrible chainsaw accidents you get to hear a lot.
Apart from these two major safety features, there are three more of them. They are- the right-hand safety guard, the throttle trigger lockout and the chain catcher. All of these are intended to provide maximum safety for the user.
A tiny drawback of the Husqvarna 455 is its small-size fuel tank. It can house only 15fl oz of oil only. So, you need to do frequent refilling as you're working with it regularly.
What We Liked:
55.5cc X-Torq motor for ultimate driving force.
Low fuel consumption and less emission.
2.0HP engine capability.
Weighs only 10.3lb
Quick startup time with minimal effort.
Centrifugal air cleaning system for dust free saw interior.
Less maintenance and cleaning required.
Completely tool-less chain tension adjustment.
20 inches long bar and chain length.
Low vibration and noise.
Combined start-stop switch.
Cordless operation for working on remote spaces.
 What We Disliked:
Small fuel tank requires a frequent refill.
4. Poulan Pro PR5020 : Best Milling Chainsaw
This is The Current Price of these Poulan Pro 20 in. 50cc 2-Cycle Gas Chainsaw (affiliate link takes you to Amazon.com).
The next best chainsaw for milling works is Poulan Pro PR5020. It's a perfect combination of both power and usability. Let's dive deep into its specs and features, and check out it's worth.
Before heading into the features, let's take a bird's eye view on the whole mode.
Poulan Pro PR5020 is a gas-powered chainsaw, which has a capacity of 50cc. The engine type is 2-cycle, and it's labeled as the Oxypower engine. The chain and bar have an overall length of 20 inches, which is great for any professional.
Apart from the engine and cutting lengths, there are tons of other notable features. The chain tension adjustment is very practical, and it's mounted right onto the side panel. So, you can access it quite easily.
The construction and design are very sturdy, and you can carry around your workshop. The overall weight is 17 pounds, with the empty fuel tank and empty oil tank. With oils filled in, the weight won't change that much.
First of all, it's the engine. The engine behind this mighty saw is the Oxypower Engine. The specialty of this engine is, it can deduce the emissions into 70%, and the fuel consumptions as well. Eventually, these two factors are the key factors when it comes to any engine of the chainsaw.
The rotating power of this engine is around 9000RPM. This is particularly noteworthy because, when you're having a power of more than 8000 RPM, you can provide enough power to deal with any kind of wood.
The cleaning system of the air intake filter is another praiseworthy part of the engine. As a benefit, you can go super easy on the air filter. You don't see any debris buildup inside the mechanical part of the model because of it's the effective air filter.
The bar and chain length is another selling point for this product. The total length of the bar and chain of Poulan Pro PR5020 is 20 inches, which is massive. It's from the inventory of Oregon, and it can achieve a cutting speed of 27.8mm per second within almost no time.
If you're informed about the cutting length and ability of other models around this price range, you can understand the real worth of this Poulan Pro PR5020.
Based on your needs, you are provided with the chance to make further adjustments. This will help you deal with both lightweight and heavyweight woodworking and cutting.
We can't help appreciating the quick starting system of Poulan Pro PR5020. There are many times where woodworking enthusiasts give it up because of the poor starting. But not anymore, as long as you have Poulan Pro PR5020 in hand.
To ensure a hassle-free starting process, Poulan seems to work hard after the starting mechanism. Therefore, the startup time had been increased to about 30% than what you can find in any other models.
The overall construction, design, and ease of use are all above the bar in case of this chainsaw. There are less vibration and noise, giving you a chance of using it even in the indoor environment. The controls of the functions are accessible easily, and we're sure that you love it this way.
In case you need any further assistance regarding any operation or control, you can take help from the well-instructive manual that you get with the chainsaw itself.
That being said, we found the Poulan Pro PR5020 a very good fit for professional milling operations. Hopefully, you'll put a thumbs up as well.
What We Liked:
20 inches low kickback bar and chain length.
Manual chain tension adjustment with easy accessibility.
Anti-vibration design with less noise.
Saves up a good amount of emission.
Over 30% faster startup time with no manual process.
Consumes less oil than any other 50cc gas powered chainsaw.
Multiple tool storage right in the handle.
Weighs only 17 pounds, giving it good portability.
Pull starting with effortless operation
 What We Disliked:
Particularly for heavy works, not a good fit for occasional light-weight works.
5. Echo CS-590 20″ Timber Wolf Chainsaw Sawmill
This is The Current Price of these Echo CS-590 20″ Timber Wolf Chainsaw Sawmill (affiliate link takes you to Amazon.com).
The last pick of the list of 5 best chainsaws for milling lumber is the Echo CS-590 20″ Timber Wolf Chainsaw. It's basically a newly released, and still climbing through its ladder or popularity. However, we've already figured out some extraordinary features in this jackpot. Have a look-
Although it's not the biggest power holder in terms of motor capacity, the 59.8cc motor is still okay to go. From such power provided, it can provide an output of 13,000RPM.
The bar and chain length is insanely 27 inches, which another key factor behind the appreciations it's been receiving from woodworkers. The pitch is ⅜" and the gauge length is 0.050 inches. All being said, you can deal with professional cutting works even on thickest of the limbs.
Without the cutting gear, the weight of the product is around 13.2 lbs, which is a bit heavier than expected. So, we can not give a 10/10 in terms of carriabilty. The engine is run on gas and oil mix, and the ratio would be 50:1. You are advised to use Octane of grade 89.
The fuel tank can hold up to 21.8oz of fuel, and there is a translucent container. So, you can be informed about the fuel level inside, and make essential refills when necessary.
Now, let's talk about how much easy it is to start.
First of all, it doesn't come with a primer bulb, which was unexpected. But if you look at it in another way, it doesn't need one. There is a digital ignition which also does decompression. To be honest, that's enough for the instant starting. As per the user's reports are concerned, it just takes two or three pulls to start.
For maintaining the Echo CS-590 20″ Timber Wolf Chainsaw, you don't need to put that much extra effort. But there are some regular jobs that you need to do around a routine. The list includes keeping the oil filter clean, cleaning off the sawdust, clean the chain oil areas and check up the health of the chain regularly.
That being said, it still requires low maintenance comparing many other 60cc chainsaws for milling.
The model has got a number of safety measurements. From all of them, we would like to give the honor of mention to the chain brake, which steps the kickbacks while working. Among other safety measures, there is a handle guard and a removable safety tip for the chain and blade.
If you need any further instructions regarding the safe usage of this product, there is a well-instructed user's manual, which may come in help.
 What We Liked:
59.8cc 2 stroke professional engine.
Dual post chain brake for quick prevention of kickbacks.
Prevents the carburetor troubles with the air shutter.
Can intake tree limbs of up to 27 inches of thickness.
Digital ignition makes start up quick.
Spring-driven anti-vibration system.
Easy to access, chain tension adjustment.
Adjustable oiler design.
Meshed filter for heavy-duty protection.
See-through fuel container.
21.8oz fuel tank capacity.
Durable, user-friendly design.
What We Disliked:
No start/of switch requires manual pulling.
What Is Milling And Why Do You Need A Best  Chainsaw For Milling?
Don't laugh at the question, my friend. There are many first-timers, and they need to know the answer right.
So, milling is the process of canting a wooden limb or log into rounded lengths. These pieces are later processed to prepare whatever wooden item you need to make out of them.
In commercial milling shops, there are automated machines which are built in and cuts these limbs right away. But if you're working on a remote site, and you don't have such setup right then, a powerful chainsaw can do the job for you.
Specially, when you want to do milling on a smaller scale, these chainsaws are the most suitable tools to be equipped with. While done properly, the result is almost the same as what a complete milling setup would do.
Buyer's Guide For The Best Chainsaw For Milling
A buying guide? C'mon, you're a woodworker. You don't need a buying guide, right?
Wrong. You still need to shorten up your list of possible models you've liked so far. And in this section, you're going to give you a hand with that.
So, what are the key factors that determine the quality, and specifies your choice? Here is the list-
The Power –
Of course, it should be at the top of the list. We're talking about milling with a chainsaw and there is no way that a mid-level chainsaw can play the role. You need some real gas-driven power to deal with those hardwood limbs.
Usually, chainsaws of over 50cc of power, and 2HP of motor power are eligible to deal with milling. As you can see, we've also picked up even higher motor power than that.
The Chain And Bar Length –
This more of a general feature which is essential for milling. As you're not only stuck to those 1-5 inches wooden limbs, you need to take it seriously. There are models which come with 20 inches chain and bar length, and there are models which have even higher(27 inches) of blade lengths. Based on the workpieces you're dealing with, you should make the choice.
The Oiling System –
Gas powered chainsaw literally has a bad reputation to be ultra-troublesome. So you need to put some solid maintenance effort after the one you're about to get.
But hey, sometimes, there are automated processes that take care of it. As an example- there are centrifugal air cleaning system, air filters etc. which will lessen up your maintenance effort.
The Safety –
Well, it's obvious that you should be as safe as possible from these deadly machines. Fortunately, brands are likely to provide a few safety features in the chainsaws. It includes guards, kickback prevention systems etc.
The Physique –
Who wants to deal with a 30lbs chainsaw while working, right? So, we suggest you chose a good balance between the size and capacity. Don't end up with the ultra-lightweight models either. Because those will give you super-irritating vibration which will harm the accuracy of the work you're up to.
People Frequently Asked When buying the Best Chainsaw For Milling'
Do Milling Saws Vibrate A Lot?
More or less, every milling chainsaws vibrate. But there are vibration-less technologies in some models which gives a significantly good result.
Question: How Many Safety Measures Are There In A Milling Chainsaw?
Answer: in general, there are kickback prevention, safety guards etc.
Question: How Much Power Is Required For Professional Milling Chainsaws?
Answer: The least requirement is 50cc and above.
Question: Gas Powered Vs. Electric Chainsaw For Milling – Which One Is The Perfect?
Answer: Electric saws are good for lightweight milling. But as long as you're concerned of professional milling, there is hardly any alternatives to a gas-powered chainsaw.
Question: Is The Maintenance Hectic For A Milling Chainsaw?
Answer: There is a decent amount of maintenance you have to do for every milling chainsaws. But as long as you're going by the rule book, it should not be hectic at all.
Bottom Line
You still reading, right? Well, pat your back. You've just got done with a list of the 5 best chainsaws for milling with the broken down details. By now, we expect you to pick up your favorite model. All we have to advise is, keep an eye on the price-quality ratio and the warranty policy of the models.
You may also love: