The saw blade on any circular is its most important part. It determines the quality of your cuts. So, it is quite essential that you select the right type of steel for the blade. 
In today's post, we will discuss different types of steel blades and the multiple aspects you need to look out for. 
We'll go over the following topics:
Types of different steel blades

Important tips

Frequently asked questions
Without further ado, let's get you started. 
Types of Circular Saw Steel Blades
There are 3 different types of steel blades that you can find on the market. Each category has its own features and unique applications. 
Besides that, each type comes with a different set of saw teeth and blade size. Some are designed for low RPMs while some are made for high RPMs circular saws. 
Does the difference between blades matter?
It depends on the nature of your tasks. If you mainly work with wood then there is little necessity to change blade material. 
However, if your tasks require you to work on different materials like metal or baseboards then you need different types of blades. 
Let's take a look at each type one by one. 
High Carbon Steel
Carbon steel blades are made from basic stainless steel but the saw teeth are covered with a combination of Tungsten Carbide.
Carbide-tipped saw teeth are highly durable and sharp compared to a normal steel blade. You can use it to cut hardwood materials and soft metals like Aluminum. 
What type of cuts is it used for?
Although you can use this blade for all sorts of cuts, these blades are mainly used for normal and crosscuts.
| | |
| --- | --- |
| Number of Teeth | 64-68 |
| Build Material | Hardened Alloy |
| RPM Compatibility | High RPM motors |
| Blade Size | 8-inch/12-inch |
Other than that, these high carbon steel blades are compatible with every 12-inch circular saw. You can also use it with DeWalt, BOSCH, and Craftsman circular saws. 
How durable are carbide-tipped blades?
The extra layer of carbide on saw teeth provides enhanced protection. In the long run, you won't have to change the blade after a couple of tasks. 
This is because carbide itself is quite resistant to wear and tear. Even if you use it for metals, the teeth will uphold their original sharpness.
Vanadium-Alloy 
Vanadium is another material used to boost the basic characteristics of steel blades. Unlike high carbon blades, vanadium blades are quite large in diameter.   
You can use these blades to cut large pieces of wood and baseboard. This is because vanadium blades are resistant to damage by vibrations and obstructions. 
What sort of cuts can I use it for?
Vanadium-steel blades are designed for strong cuts. However, this ability comes at the cost of precision. You cannot make precise cuts with such a large blade. 
| | |
| --- | --- |
| Number of Teeth | 24-42 |
| Build Material | Chromium-Vanadium |
| RPM Compatibility | Low RPM motors |
| Blade Size | 12-inch |
As far as the compatibility is in question, you can attach this blade with any 12-inch circular saw. It is compatible with almost every brand available on the market. 
Stainless Steel
The basic material that is used for the majority of circular saws is stainless steel. These blades are designed for sharp and precise cuts. 
You can use it on materials like hardwood, plywood, and soft metals. Moreover, these blades have a high number of teeth to easily slice through the aforementioned materials. 
What sort of cuts is it suitable for?
Stainless steel blades are mainly used for precision cuts. Due to their high number of teeth, you can use them to cut pieces without any splinters. 
| | |
| --- | --- |
| Number of Teeth | 42-64 |
| Build Material | Basic Steel |
| RPM Compatibility | Low-High RPM motors |
| Blade Size | 6-inch-12-inch |
You won't face compatibility issues with a stainless steel blade. This is because every circular is designed to be compatible with them. 
Now that you know the types of material used for circular saw blades, let's check out some important tips.
Important Tips to Keep in Mind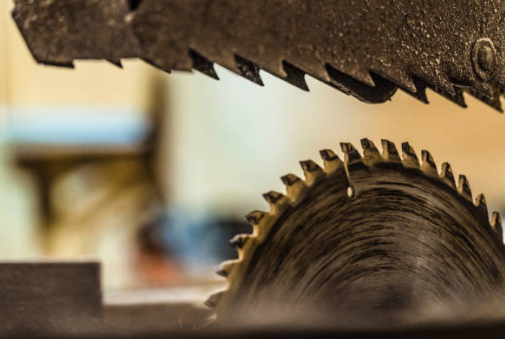 Following are some handy tips you should keep in mind to extend the overall life of your circular saw blade.
Here they are:
The cleanliness of a saw blade goes a long way. Most blades are damaged over time because people don't clean the teeth tips properly. 
The dust and wood sediments reduce the efficiency of your blade over time. Another thing that can damage your blade is moisture. 
How can I avoid it?
Always clean your blade after every cut. Besides that, keep the blade guard on at all times when the saw is not in use. 
Always check what materials your blade is compatible with. In some cases, people use their saw for a material that isn't suitable for the blade itself.
For example; If you use a stainless steel blade to cut soft metals. It'll work for a short duration but in the long run, it will render your blade useless. 
It is good practice to check how many RPMs are best suited for the blade you have. Sometimes a blade requires a low RPM motor for a better cut. 
So, if you use a low RPM blade with a high RPM motor, there is a potential risk that your blade might break. 
How do I prevent this?
The best way is to just use the right blade. Otherwise, you can use a blade with a lesser number of teeth to avoid damage. 
Frequently Asked Questions (FAQs)
We have gathered some commonly asked questions from around the web. Let's take a look. 
What is the optimal number of teeth on a saw blade?
The optimal number of teeth lies between 42 and 64. They are strong enough to cut through large pieces but also precise to make fine cuts at the same time. 
What should I use to clean my blade?
A piece of clean fabric is your go-to option. Do not use any kind of liquids to clean the blade. It can potentially expose your blade to rust. 
Are carbide tips necessary for circular saw blades?
Carbide tips aren't necessary for saw blades. However, an extra layer of protection can come in handy if you wish to work with hard materials. 
There is a vast variety of materials that you can choose for your circular saw. At the same time, it is quite necessary to select the right one. You should always select the blade material according to the task at hand. 
We recommend that you use a high-carbon steel saw blade. They are quite sturdy and provide easy precision cuts. 
With this, we come to the finish line of our post on different types of steel used to make circular saw blades. 
Do let us know which material do you prefer for your circular saw blade.
Take a look at our page to better compare the materials.