Over the past two decades, Kobalt has made its reputable place in the market by producing quality power tools available at an affordable price. 
They have specialized in woodworking tools including miter saws which we will be discussing in this post. 
Kobalt is a renowned manufacturer who has created products for NASCAR as well. So without further delay, let's check our the promising Kobalt miter saw. 
Let's take a look at what this post gives information on:
What is a Miter Saw?

Kobalt Miter Saw Review

Kobalt 7-¼-inches 10-Amp Single Bevel Sliding Compound Miter Saw

Kobalt 10-in 15-Amp Sliding Compound Laser Miter Saw

Kobalt 12-in 15-Amp Dual Bevel Sliding Laser Compound Miter Saw

Final Verdict
Now, let's get started!
A miter saw is one of the most powerful woodworking tools that cut with speed and accuracy. It consists of a circular blade fixed on a tilting arm that can pivot to provide different angles for cutting.
Miter saws are typically used to cut materials such as:
Siding

Flooring

Lumber

PVC pipes
There are different movements for miter saws. The stationary miter saws are cut down vertically hence have to be brought down to the workpiece to do the cutting.
On the other hand, a sliding miter saw can be cut horizontally by sliding over the workpiece. 
The Kobalt brand has three sizes of miter saws that are quite famous and breathtaking:
The Kobalt 7-¼ inches sliding compound miter saw

The Kobalt 12 inches dual bevel sliding laser compound miter saw

The Kobalt 10 inches sliding compound laser miter saw
Let's take a look at each of them to get a better comparison about which miter saw is the best one out of these Kobalt power tools. 
Kobalt 7-¼-inches 10-Amp Single Bevel Sliding Compound Miter Saw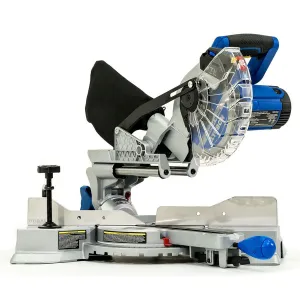 Image Courtesy: Reddit
In case you are comfortable with small space and little power as compared to other power tools, as long as the price is affordable, then the 7-¼-inches miter saw is perfect for you.
You will get a die-cast aluminum table and base that will be quite large to assist you in making the cuts that you want. You can make bevel cuts at 47-degrees left and right. 
The dual rail system helps you make cuts in both directions. Moreover, to increase your precision, this miter saw has a laser guide system to enhance accuracy. 
Specifications
The specifications for this sliding compound miter saw are:
7.25 inches blade length

AC/DC power source

Blue and silver color

60 teeth

29 pounds

25.3 x 16.3 x 14.6 inches dimensions 

1 lithium-ion battery 

Includes bare tool 

Plastic and metal build 
Performance
The lightweight of this powerful tool makes it extremely convenient to work with, unlike other heavy tools that require a lot of energy. 
At 90-degrees, the miter saw is capable of making crosscuts of 2×8 inches and 2×6 inches at 45-degrees. It can make framing cuts as well as molding cuts. 
The large base and table are available for support for bevel cutting to the left and 47 degrees upwards where you will find positive stops from 0 to 45 degrees. The aluminum fence provides support for cutting and setting. 
Features
The adjustable laser guide is present at the front to provide pre-determined lines to allow straight cutting. 
Moreover, the 7-¼ miter saw has a strong 10-amp ball bearing motor and precise alignment that provides up to 5000 rpm speed for precision cutting. 
You can cut up to 50 degrees in both directions by making 9 positive stops that will provide the correct placement for the most popular degrees. 
Pros
Enlisted below are some of the advantages we found in the 7-¼ inch Kobalt miter saw:
The dual slide rail system allows cutting in both directions

Compact rail design saves space

Bevel makes cuts of 47 degrees left and right

Adjustable laser system to ensure accuracy

Lightweight allow easy transport and usage

Laser is battery-free

Affordable and good quality
Cons
Some of the disadvantages include:
Lack of power

Weak laser light

Blade guard could shatter
Our Recommendation
The Kobalt 7-¼-inches 10-amp single bevel sliding compound miter saw is a great power tool for personal and professional use. The small size of the blade and the compact size of the saw makes it easy to work with.
Our team recommends this tool for small projects or remodeling or finishing purposes. With an affordable price and quality features, this miter saw is worth the hype. 
Kobalt 10-in 15-Amp Sliding Compound Laser Miter Saw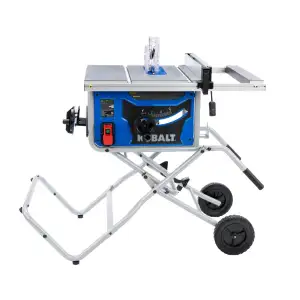 Image Courtesy: Reddit
Another option to choose is if you want to cut down on the size and power of a miter saw to save some expenses, then the 10-in Kobalt miter saw is the right choice. 
It consists of an innovative rail design that saves space with its compact size. 
The perfect application of these miter saws is to make molding and framing cut less than 23 pounds. This means that despite its smaller size, it can still handle the intensive work.
Moreover, the saw will allow you to make miter at 50 degrees left and right with 9 positive stops. This miter saw too, comes with an adjustable tool-less laser guide. 
Specifications 
This sliding compound miter saw has the following specifications:
Telescoping support in both direction

15-amp motor

Preset cutting depth and bevel detent 

Electrical brake for blade

10-inch blade with 4800 RPM

Sliding fence

The switch handle is horizontal

50-inch maximum miter

45-inch maximum bevel
Performance 
We are positive that this Kobalt saw can work quite efficiently for both miter and bevel cuts. 
The blade of the saw cuts along the right side of the laser for you to cut with more accurate guidelines. The laser guide is effective for making forward cuts as well.
The 10-inch saw blade helps you make 3.58×12 inch cuts at 90 degrees and 3.58×8 inch cuts at 45 degrees.  
Features 
Kobalt places the lasers on the cutting head support which prevents the line from getting blocked and keeps it out of the way. 
Moreover, the laser does not require any batteries which prevents the hassle of changing an old battery. The laser is integrated with the saw to receive power to light. 
There is a hold-down clamp to lock the material down into place at its location which promotes quick and smooth workflow. The extensions slide out easily to provide more support.
Pros
The advantages of this Kobalt miter saw include:
Adjustable laser pointing system

Allows 50 degrees miter left and right

9 positive stops

Great for cutting up to 23 points workpieces
Cons
The disadvantages include:
It is not as powerful as other options 
Our Recommendation
We recommend the Kobalt 10-in 15-amp sliding compound laser miter saw because it is a reasonable choice if you want to upgrade to a sliding miter saw or purchase it for the first time. 
This power tool combines all the great qualities of a miter saw at an affordable price. 
Kobalt 12-in 15-Amp Dual Bevel Sliding Laser Compound Miter Saw