Corian is a type of solid surface material produced by DuPont. These days, it has become an extremely popular countertop material. 
Although professional installment produces the best result, it's not uncommon to DIY your own Corian countertops. 
When you order Corian, it comes pre-cut according to your measurements. However, you'll need to cut it during the installation process. 
The best part is that it's quite easy to cut Corian countertops with a few simple tools. Let's discuss how you can do this without any hassle. 
In this post, we will go over the following points:
Why choose Corian countertops?

Things you need 

How to cut Corian with a circular saw?
… and more. 
Without further ado, let's begin. 
Why Choose Corian Countertops?
The biggest advantage of Corian is that it is very easy to work with. They're not only simpler to cut to your desired dimensions but the installation process is also hassle-free. 
We also recommend them due to their seamless appearance, extreme durability, and simple maintenance. Moreover, it looks just like real stone such as granite. However, unlike granite, you can cut Corian with any tool that cuts wood.
On the downside, Corian is not an option that is light on the pocket. In fact, if you compare the cost, it's equivalent to a granite countertop.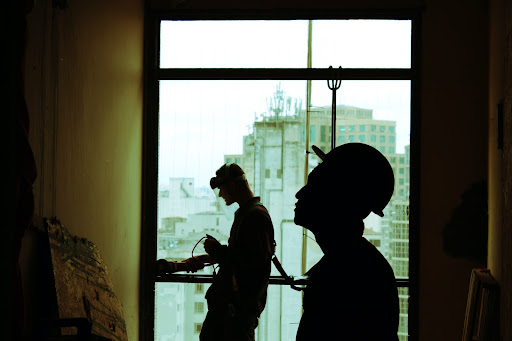 Before we begin with the instructions on how to cut Corian, let's go over some safety considerations. 
When you cut a solid surface like Corian, it creates fine plastic sawdust that can damage the lungs. Therefore, we recommend you wear a woodworking particle mask when you cut Corian. 
But, to be extra cautious or if you have a lung disease, we advise you to go the extra mile and invest in a compound respirator with dual cartridges fitted with NIOSH particulate filters. 
This will also protect you from methyl methacrylate (MMA), a common chemical lung irritant that may be released due to the heat produced by the blades. 
Other than this, you must also wear good quality safety goggles, gloves, and ear protection. 
Before you start with the project, don't forget to go through the Corian fabrication manual to confirm what type of blade and saw you need. 
To make things easier for you, we've prepared a list.
Saws that you can use:
Stationary with a sliding tray

Vertical panel saw

Drop-cut saw

Heavy-duty portable circular saw

Radial arm saw

Beam saw

Corded worm drive saw 
Saws we would not recommend: 
Hack saw

Auger bits

Ripping or combination blades
Blade requirements:
Go for a blade that has 6 teeth every 1-inch. So, for a 7 ½ inch blade, the teeth should be 40 in total 

Look for a blade that is specially made to cut hard plastic

Lastly, it should have triple-chip tungsten carbide teeth
Here are some of the tools and materials you need to have on hand to carry out this project: 
Circular saw 

40-tooth blade 

Marker 

Straightedge 

Straight cut guide fence 

Clamps 

Safety goggles 

Respirator 

Tape measure 

Masking tape 

Corian slap or sheet 
How to Cut Corian with a Circular Saw
Step 1 – Mark guidelines and attach a straight cut guide 
When you use a circular saw to cut Corian, it can be hard to keep the running blade straight. To avoid inaccurate cuts, attach a straight cut guide to the Corian sheet so it can guide the foot of the circular saw. 
You can also clamp a 2×4 or a board to the slab to act as a fence. But, we still recommend a commercial straight-cut guide fence. This is because the cuts must be perfect so that there's a flawless seam when the pieces are joined. 
Begin with drawing a line on the Corian slab. We suggest you cover the material with masking tape before you draw the line. This will minimize the risk of its chipping. 
Next, attach the straight-cut guide to the slab. Spring clamps are the best option for this but, any other clamps will also work okay. 
Step 2 – Adjust the straight cut guide 
Before you start to cut the Corian slab, position the straight cut guide fence so the saw blade will run right on the guidelines that you marked in the last step. 
You can confirm the fence width when you lower the saw blade depth and rotate the blade cover out of the way. Don't forget to disconnect the circular saw before you do this. 
Now, carefully lower the saw down the length of the fence and watch the blade's alignment with the lines. 
Tip: You can make a support for the cut-off part of the Corian slab so it doesn't tear out at the end. 
Step 3 – Cut the Corian slab with a circular saw 
Fix the blade depth to about ⅛ inches deeper than the thickness of the Corian slab. Then, connect the saw to power and start to cut.
The speed of the saw should be slower than what you would use to trim wood. Also, try to keep steady as you move forward. 
Since Corian is a very hard material, we can not emphasize the need for slowness and patience enough. We also do not recommend you stop in the middle of cutting. This is because the sides of the slab might burn and melt due to the friction produced by the blade. 
Tip: If you need to rest in the middle of cutting, turn the power switch off and hold the blade in one place until it stops moving. 
This concludes our guide on how to cut Corian with a circular saw. You can also cut a Corian countertop with other tools such as a radial arm saw, beam saw, or router. For example, a belt sander will work perfectly if you want to make small cuts. 
But, the manufacturer still recommends you use a circular saw as it's the best option. If you don't own a circular saw, you can easily rent it from your local hardware store. 
Visit our website to know which circular saw is best for you.
Lastly, to cut a Corian countertop is a lot easier than you think. All you need is the proper knowledge and the right blade.