A miter saw is a powerful tool because it is quite efficient especially if you want to work with thick pieces of lumber. You can cut at different angles ranging from 9-135 degrees.

However, not all of those work in that manner. If you are working with projects that require a higher angle cut than 45 degrees, you might face some difficulties.
Let's discuss them in detail in this guide.
Quick Summary
---
By the end of this guide, we will go through
A quick guide to cut angles greater than 45-degrees on a miter saw
10 steps to cut angles greater than 45-degrees on a miter saw
Things you will need
How to cut a 60-degree angle
Final thoughts
Let's take a look at it.
So, here are 10 easy steps to cut greater than 45 degrees on a miter saw.
A quick guide to cut angles greater than 45 Degrees on a Miter Saw
Make a jig
To make cuts higher than 45 degrees you'll need to set up a jig on your saw. Setting up a jig will enable you to cut up to 85 degrees.
Lookup for a scrap piece of board 4 inches wide and its length should be parallel to your miter saw fence.
Stick it
You'll have to stick the scarp piece to your saw fence. You can use clamps or glue, whatever you prefer. We would highly advise you to use a clamp if you want to make only a few cuts.
If you are aiming to use it for repetitive cuts we would suggest that you use glue.
Making the cut
Now that you have your board secured to the fence, you are required to make two cuts. Adjust the gauge by 45-degrees and cut from one side.
Move the gauge to the other side, make a 45-degree angle to make a cut.
Your work frame is ready
Now that you're done with the previous steps, your jig will have a triangular frame wok. This means it is ready for further cuts.
10 steps to cut angles greater than 45 Degrees on a Miter Saw
Now that you have your jig ready, your saw is ready for higher angular cuts and wider cut capacity.
These 10 steps will help you to make repetitive angular cuts efficiently.
Step: 1
Lookup for a piece of wood 4-inch wide for your miter saw. You can mount your saw to a workbench or a stand. Make sure that the woodblock is the same height as your base. It should be secured making it parallel to the height of the saw base.
Step: 2
You will have to cut the strip at a 45-degree angle by 1-½ and 3 feet in length.
Step: 3
Now go for the second cut by 45-degrees in the 4-inch thick base, remove the first 1-½ inch piece you've made.
You can attach the 1-½ inch edge you've made to the 4-inch base that has 2 cut lines on it.
It's more convenient to use those 1-½ inch pieces as the spacers. If you mount these it will create additional space. you can adjust your saw angle when it's needed.
Step: 4
Now that you have both of your pieces ready you can mount them on the base, this will make a new border fence on your saw.
Step: 5
If you cut your base at 0 degrees this will automatically turn it on 45-degrees. It's important to have two cuts so the border you just created will stop you from placing the base far from the saw.
Step: 6
Cutting on the opposite side makes a 90-degree cut.
Step: 7
If you have to get a cut lower than 90-degrees, you can use a protractor to check the angle of the place where you will fix up the base. This can be used for a 45-degree cut too.
Step: 8
Keep the angle in 2 parts, 22.5 degrees each. Adjust the saw by 22.5 degrees for a test cut.
Step: 9
By cutting two pieces you'll get a joint structure. This would require two cuts to form the accurate angle.
Important Tip: You can use clamps, they'll help you to tighten up the base in the space between the border and the blade. This will allow you to make repetitive cuts.
Caution: If your blade is not secured tightly it will distort the balance of the saw and the saw will not be able to hold the weight of the base.
Step: 10
Inspect if the joint fits. If the angle is sharp it'll be a little difficult to achieve a better fit. Test the angle whether it's fine or not before cutting the base you are working on.
Things You'll Need
The tools that are required to make cuts greater than 45 degrees on a miter saw:
Carpenters pencil
A protractor
Miter saw
Wood stock
A square or ruler
A pair of safety glasses
A workbench
Prep your saw
Adjusting your blade
Make sure you have adjusted the blade by 0-degrees. Slide the square to the blade edge opposite the border. Lower the saw and secure the square by the blade edge. For this, you'll have to uplift the guard.
Filling up any spaces
Make sure that the guard is opposite the border you've made. Now, position the blade on the alternative side. Set up the saw and cover up the spaces if there are any. The instruction manual will help you to fix it.
Set up the angle
Set up the angle at 45-degrees for your cut.
Mark the base
Mark your wood base and position it. Lower your blade, and position it just above the marked piece. Make sure that your saw is unplugged to avoid damage.
Aligning the board
If the blade needs to be aligned to the mark, adjust your board. Hold the wood right into position, gradually and uniformly bringing the blade down.
Let it cut
Don't push the blade down. As soon as the cut is made, switch off the saw blade and give the blade time to gradually stop. Only then you should lift the blade.
How to Cut A 60-Degree Angle?
A jig is a necessary tool to have because the miter saw has a limit of an angle up to 45-degrees. The prepared jig will make the 60-degree angle cut easy.
1. Fix up the angle
Fix up your miter saw on a workbench and adjust the angle by 30 degrees. The border you've made should be secured at a 30-degrees angle. The 30-degree jig will be an important tool for the 60-degree cut.
2. Keep your gear on
Before starting the cutting process make sure everything is geared up. The safety glasses and gloves are important to keep you safe from damage. Earplugs or good headphones will keep your ears covered from the harsh sound.
3. Cut through the wood
Now that you are safe and sound. Let's start the work. Put the wood base opposite to the border and cut through it. Make sure that you keep the prepared jig away from the saw and then rotate the saw blade.
4. Make the 30-degrees cut
You have prepared a 30-degree angle joint with your jig. If the wood base is long, shorten it by cutting it through. Make sure it's 6 inches in height.
Make the 60-Degree cut
1. Position the jig
Position your jig opposite to the border you've created and set it by a 30-degrees angle.
2. Secure it
Tighten it up by using a clamp so that it doesn't move and slip down. This step is a really important one to get the accuracy in the cut.
3. Set up your base
Position the wood base opposite to the jig and cut it through. Make sure it's fastened against the jig, once this is set up you are good to go with your 60-degree angle cut.
4. Making the cut
Now that you have your jig prepared by the 30-degree cut. Adjust the saw angle by 30-degrees.
The 30-degree angle of the jig along with your saw's 30-degrees, when added up together, makes it up to 60-degrees.
This will enable you to cut by a 60-degree angle.
Now that you know how to make jigs, you can make these up at any angle from 1-45-degrees. This tool will allow you to make cuts at any angle.
This technique makes the saw multifaceted enabling you to make varying cuts.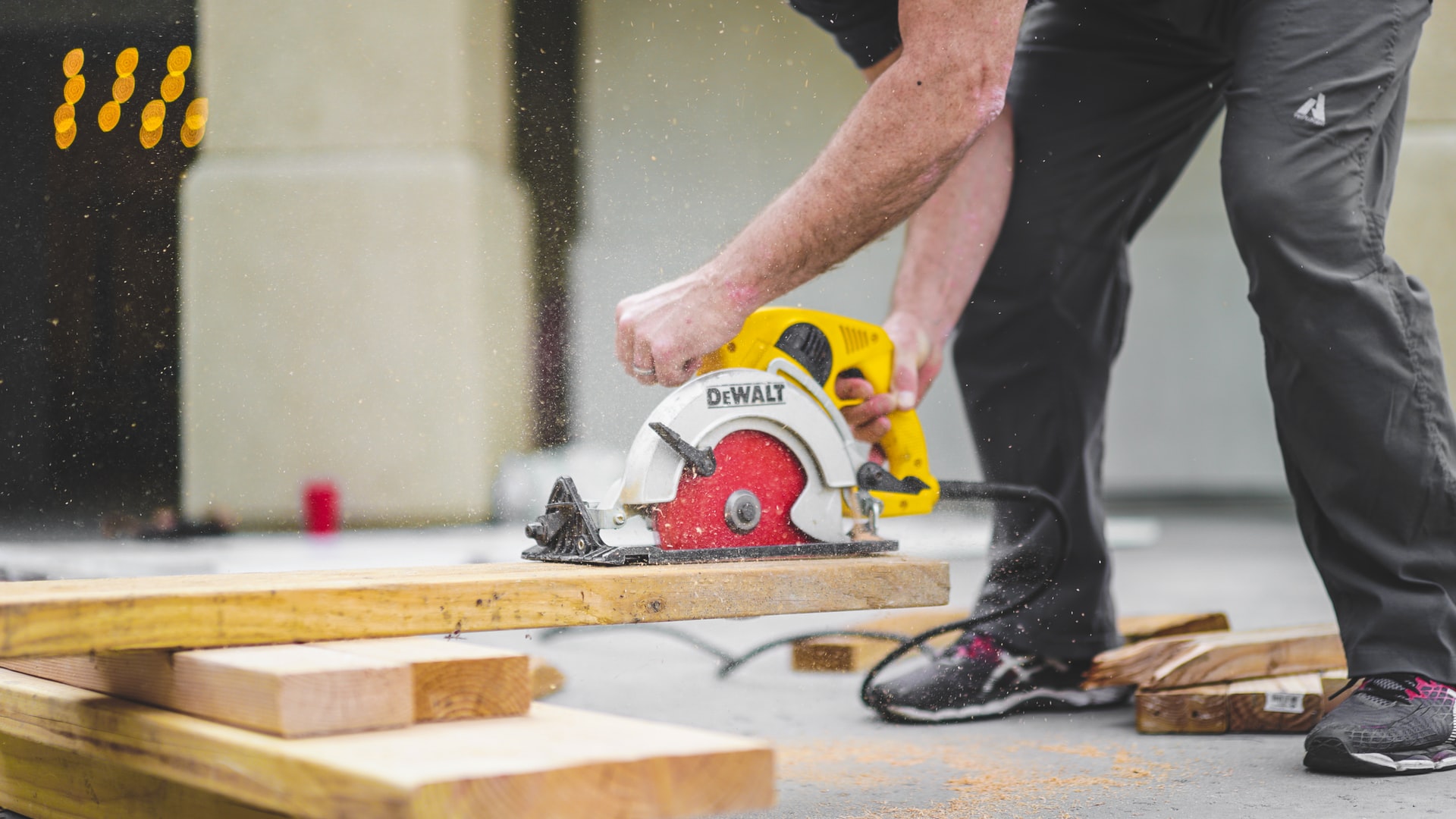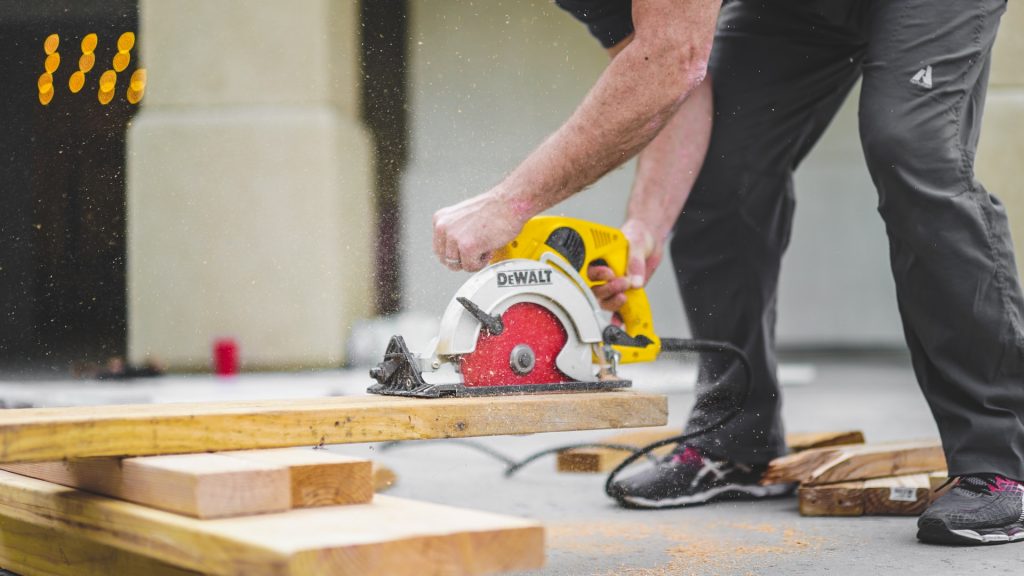 Final Thoughts

Making angle cuts past 45 degrees on a miter saw isn't hard, only if you know the right tips and tricks for it.
You just need to get your jig ready and the process will be easy. This will save you up from the hassle of getting extra extensions to cut an angle past 45 degrees.
With this, we conclude our article on How to Cut Angles Greater than 45 Degrees on a Miter Saw.
Do comment and let us know of your experience.