Spikes are indeed necessary for safe climbing on trees. It's the most beneficial tool for perfect ascending & descending tasks.
There are certain reasons to keep spike ahead of the ladder, stand or steps. You can reduce the chance of accidental falling or slip to a minimum level.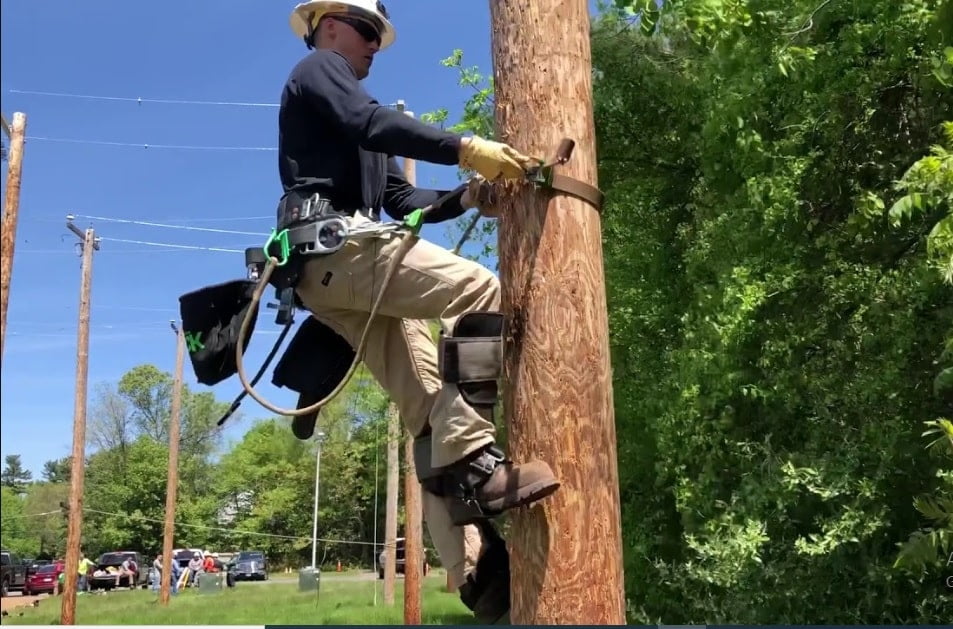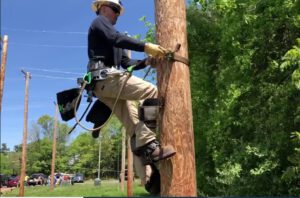 You know limitless numbers of choices are there, overwhelming the entire market. But not all the spikes are equal in terms of quality or comfort.
So it's difficult for anyone to narrow down the list at once. But you can skip all that right here with our article. We've brought in the best tree climbing spikes for you to consider.
Now, let's dig out all the details of each pick right below.
These are our choice of the Best Tree Climbing Spike Set
Klein Tools CN1907ARL Tree Climber Set
Notch Gecko Steel Climbers
Buckingham Steel Spur Kit
Evoke Gear Tree Climbing Spike Set
Gecko comfortable Tree Climbers
Pair of Sport Hunting Climbers Set
HUAWELL Tree Climbing Spikes
Notch Gecko Aluminum Climbers (Tree Gaffs)
1.

Klein Tools CN1907ARL Tree Climber spikes Set
Safety & comfort go hand in hand with our top choice klein tree climbing spikes set right here. It's a complete set to support the job, rather than a singular spike. There's barely any suitable alternative to the top-class climber set. 
Klein Tools guarantees maximum protection for linemen from every aspect. And its CN1907ARL is one set to cover all the needs at once. The package contains straps, pads, stirrups, leg irons & gaffs. 
Top-quality leather for climbing pad features extra cushions. Your physique remains completely safe against the imposed force. Aside from extended comfort, the assembly can withstand 350 pounds.
Meanwhile, there come neoprene impregnated nylon straps. It allows the spike to hold your weight all the way. Also, the attachments encourage the overall serviceability towards a long-lasting life.
Included gaffs here measure a convenient 2.75" size. One specific fact concerns with the spike size, differing from the gaff. Regarding the spike size, it measures a standard 17" to 21" size right here. 
Somewhat longer gaffs initiate further penetration. Not to mention, the particular component is replaceable with manufacturer models. Then again, it promotes a firm attachment to the leg irons.
You can easily adjust either of the included sleeve & leg iron connections. The contoured irons enable a secure, stable gaff position. In fact, the adjustments are available in ¼"/6mm increment.
Additional spilt spring of solid steel secures the ankle strap position. Of course, two-slotted hex-head bolts hold the connectivity. The spring also gets faster replacement ahead of excellent foot support.
2.

Notch Gecko Steel Climbers w/Tree Gaffs
Climb the tree or pole with the ultimate comfort of a high-tech spur. In fact, it imparts a perfect balance for your moving body. And you'll get the proprietary design within a reasonable price.
Notch Gecko brings in the solid steel spike to support your cause. Of course, the whole assembly features functional components. Thoughtful design ensures optimum safety & comfort all the way.
The gaff length measures a standard 2.5" size. Additional rustproof finish on the exterior makes it quite usable withstanding all rigors. And there comes steel leg iron to induce tougher spike connectivity.
It includes a supportive molded cuff of quality plastic. Therefore, the structure remains intact against accidental impact loads. Again, built-in EVA padding allows your contact points to stay comfortable.
Featured padding is present throughout the most comfortable tree climbing spikes. Uniform but high-density EVA gets you to enjoy the wear with no distortion. For the best part, you can easily wash & even replace the cushion.
Offset stirrups let you position the legs with maximized safety. There is a calf strap on the upper side, measuring 4" in width. Moreover, the integrated lower strap measures 26" in length for support.
The height remains adjustable from 14.75" up to 21.0" here. Adjusting increment is ¼" to encourage perfect user fitment. Overall structural design can hold about 350 pounds of weight without issues.
Manufacturer itself tested the elements against every imaginable rigor. The quality manages to meet the ASTM F887 standard. Extended security promises a lifetime service over proper care& maintenance.
3.

buckingham tree climbing spikes set
Utilize the solidity & endurance of the spur to climb intended height. It's one kit resulting from high expertise & great experience. The tree climbing spikes buckingham itself is one top-rated choice among passionate customers.
Buckingham remains in the industry for over 100 years. Obviously, quality assurance for satisfactory products keeps the company alive. And its steel spur kit seems like one simple pick from the bucket.
The basic spur frame comes with a pretty steady design from inside out. It offers unsurpassed durability & strength against all odds. You can use the kit without giving a wide berth to any season.
Superb sharpness for the robust spur initiates a premium combo. You'll receive maximum physical support from the beginning. Combined action of the built-in spurs can hold 350 pounds of weight.
Of course, the integrated leg shafts allow certain adjustments. You can make a preferable fitment for the wear regarding leg size. It lets you enjoy rather comfortable wear without sacrificing security.
Steel reinforcement on back helps to withstand the outdoor rigors. It even enables retention of spur shape over frequent use. You'll barely experience any wear or tear following the bending of pads.
In addition, the assembly features supportive padding inside. Despite the high-density material, it imparts excellent softness. Extra layers of lining on back encourage overall comfort for your legs.
Apart from unrivaled comfort, the padding promotes a weighing balance. It includes a uniform & even distribution of weight throughout. Also, it can quickly restore the parity over accidental imbalance.
4.

Evoke Gear Tree Climbing Spike Set
Whether it's tree or poles – the set is ready to initiate a secure move. The spike set is another complete package to help with the job. This professional climbing spike set is indeed a perfect fit to enjoy a secure & comfortable ride. 
Evoke Gear is one reliable name in the equipment business. It introduces a full spike set in the process to serve the purposes of linemen. You'll receive almost premium service over an affordable price here.
The quality isn't exactly the best among all the options around. But still, you can merely turn your back on its performance or satisfaction. Every component of the right tree climbing spikes comes with reasonable efficiency.
Solid, commercial metal for the spur set imparts higher durability. The robustness prevails from its core to promote better supportive action. It's literally impermeable against common outdoor rigors.
Regardless of the body size, it lets you strap comfortably on the harness. Built-in strap of sturdy material restrains climbing issues over your position. The harness itself features a fall protection safety rating.
The integrated padding allows comfortable wear for a prolonged time. Not to mention, height adjustment facility matches the physique. The adjustable range is sufficient to fit any adult body.
It's possible for you to require replacements over frequent or long-term uses. Making replacement for any part seems quite easy & simple. In fact, Evoke Gear parts are available for separate purchase.
But the lack of an instruction manual may cause a difficult assembly. Also, the design is barely suitable for trees having thicker barks. Despite the downsides, it's one great option from the price point of view.
5.

Gecko Tree Climbers Spikes
Simply forget about any significant wearing load attached to the foot. Almost all the available spikes include steel construction. Whatever the mechanism is, steel certainly adds up the self-weight.
That's where Gecko surpasses all the competitors' right here. Instead of steel, its tree-climbing spike comes with an aluminum frame. And the metal curtails the self-weight to a considerable extent.
The lightweight aluminum weighs a mere 4.3 pounds combined. You better get the option when you have some heavy tools to carry. Using the spike particularly ensures a featherweight experience.
Again, the assembly includes a shin cuff of sturdy fiberglass. For the best part, you can easily adjust the cuff according to body size. Perfect adjustment triggers secure & comfortable fitment all along.
Extra padding on the shin promotes comfortable to wear for sure. It's dense enough to provide a reliable holding over soft skin contact. The padding is pretty uniform to impart better protection.
Additional offset for leg stirrup enables high protective measures. Combined action initiates perfectly locked climbing movement. Also, you'll feel comfortable on the foot without compromising safety.
Replacement is available to withstand against wear & tear down the road. If steel gaffs start to fall off, you can get a replacement. Even the cuffs & pads are replaceable here to counteract any problem.
The weight carrying capability remains the same, 350 pounds. Unlike the steel ones, the model seems somewhat pricey. But it's the best choice to combine lightweight structure with durability.
6.

Pair of Sport - best tree climbing spikes for hunting
Extra jumping power gets you better ascending & descending climb. The particular choice is quite unique in the whole market. And you can easily afford the model within a reasonable price tag.
Sports Climbers combine action, appeal & security in one unit. It's the best tree climbing spikes for hunting. You'll have nothing to worry about your ride throughout the job. In fact, its versatile pair lets you climb any tree like a pro lumberjack.
Incredibly simple design allows unbelievably supportive action. Likewise, it doesn't include lots of features or components. But you can prefer the pair to enjoy a quick, smooth & safe vertical ride.
The functional design enables beginners to climb with ease. Not to mention, it eliminates the essence of risky tree steps. Practical considerations make it one useful spike from different angles.
Unlike any other, the spike comes with a variation in its shape. Unique V-shaped construction is indeed patented by manufacturer. Of course, the shape itself has some peculiar leverage to offer.
Hollow V spike tends to increases the total contacting area. It allows you to grab, hold & distribute the weight with uniformity. And the chance of accidental slipping/falling reaches a minimum level.
From first-timers to pros, the right tree climbing spikes ensure optimum operational simplicity. Wearing the spike seems pretty easy with no special step. Even the assembly is quite okay for beginners.
The appeal is another core advantage for smart, stylish users. Lack of elements results in a mere 3.0 pounds of weight. All you need is to attach the system with the boots using integrated straps.
7.

HUAWELL Tree Climber spike Set
Skip all the ladders, stands or step to climb trees & poles. It's obviously a great choice for any professional sportsmen/linesmen. Ascending & descending becomes an incredibly simple task here.
The very last of our top picks for spike comes from Huawell. But the quality still remains at the peak from major aspects. Again, you'll find it quite suitable in terms of simplicity & affordable price tag.
Featured spikes are incredibly wide to promote safe & comfortable use. You can easily put it under the shoe sole. Whether it's for immediate or prolonged use – you're sure to get unsurpassed output.
Thorn tip is incredibly strong with a sturdy material background. But it's likely to cause any problem for you insert inside the tree. Convenient tip insertion triggers a stable & balanced riding position.
Its length measures a standard 17" against a 3.94" width. Meanwhile, the empty weight is about 3.1 lbs or 1.4 kg only. Therefore, the whole spike remains incredibly light for your foot to bear all along.
Extended dimensions result in even distribution of your body weight. From the top to its bottom, the structural design enables maximum support. Therefore, it can withstand about 270 lbs of weight.
You can use the spike to climb all kinds of trees without limitation. Of course, it's better to get a belt for ascending tall trees. Manufacturer recommends some practice first on the lower portion there.
You'll find durability & afford with the spike, no questions asked. The minimalistic model is ready to get you up & down with safety. And from the price point, it's one must-check option for beginners.
Do you think to cut tree branches, without climbing?
It's a good idea to cut tree branches without climbing trees. But in this case, you need a long-reach pole saw. We have listed some good pole saws. Check it out now-
We think the above pole saws can make some jobs easy.
How to Choose the most comfortable tree climbing spikes
There are always some specific factors to check while buying any equipment. And you better pay attention when it gets to safety gear. With lots of available choices, it's no surprise for things to go wrong. Nonetheless, it's the same for you when choosing the best tree climbing spikes.
Comfort:
Even the most popular one in the market can't provide the best output. Aside from safety, the very first concerning factor lies with your comfort. Certain risks remain high on the job when you compromise with comfort.
Brands are consistently trying to make the spikes more comfortable. You should look into the inclusion of advanced technical features along with structural design. Padding, strap & empty weight play a large role in deciding the overall user comfort.
Weight Capacity:
Weight capacity itself is one underrated but essential factor. Not to mention, high-quality spikes tend to fail over the negligence of the issue. Regardless of the material or size, you'll have to take a good look into capacity.
Most of the top-notch models come with a standard 350 lbs or 158.7 kg. There are some particular good-quality options with a low weight carrying capacity. Bulkier body size causes accidental breakage of a spike during the ride.
Durability:
Nobody wants a purchase with short durability over uses. Linemen have to put on the spikes on a frequent basis. Therefore, durability is important to satisfy your need for a good time. You'll have to focus on the material type along with its acceptance.
There are steel, aluminum or other suitable metal to make the whole structure. Meanwhile, cuffs & straps mostly feature leather body. Don't miss the padding intensity, softness or weight distribution. For an extra spending budget, you can get fiberglass.
Price-to-Quality:
For anything important towards professional work, price is undeniably important. And the same happens with climbing spikes. Individual spikes are available in lower price tags. But you'll have to spend some hundreds of dollars for the full set.
Beginners or occasional users better go for budget-friendly options. And the pricey complete sets are more like premium gears for pros. But spending a good amount over top-quality, popular & functional one is definitely worth your preference.
How to Put on Tree Climbing Spikes
It may seem a bit unorthodox to talk about the usage. But you should know how to use the spike to get the best service out of it. That's where we would like you to go through the following steps.
Step 1: Making the Judgment:
Before anything else, you'll have to get a suitable spike for the job. It basically depends on the tree or pole configuration or type. Not every single spike is suitable for all sorts of poles/trees. Some are particularly useful for thicker ones whereas some remain suitable for thinner ones only.
Step 2: Adjusting the Strap:
You'll have to adjust the fitting size towards a secure climb. It concerns with the adjustment of strap & cuff. You'll have to put the legs inside & therefore, lock the system with sufficient firmness. Comforting adjustment is always preferable rather than overtight or quite loose fitment.
Step 3: Adjusting Toe Position
Following strap adjustment, you'll have to go for setting the toe position. The toe has to lie within the middle portion of your foot. It's indeed the position where the spike is likely to take its place. You better avoid direct alignment with the ankle for skipping an imbalanced ride.
Step 4: Safe Spark Storage
Of course, you'll get the riding & climbing perfectly over proper wear. But don't miss safe storage to maintain performance or quality. As it happens, climbing spikes possess potential danger over careless storage. You better get it inside a thicker bag to prevent accidental or gradual penetration.
How to Use Tree Climbing Spikes
Although it's like wear & adjust to get the job done. But as it happens, there's more for you to consider. In fact, understanding the whole process will help you to make secure & comfortable climbing all the way.
Obviously, the first part covers putting on spurs, saddle, climbing equipment along with your necessary gears. You'll have to make adjustments in order to enjoy fitting wear.
You better throw one flipline end around the tree/pole diameter to catch it in hand. Connect the positioning D-ring to the end from the opposite side of saddle.
You can do it utilizing the adjuster. Start using the spurs to get trunk purchase along with the flipline. It'll certainly prevent backward falling regarding the tree.
Stab the gaff inside the tree/pole at the correct angle & make a step over it. Keep your knees 6" to 8" away from the trunk to prevent unwanted tearing out of trunk.
Advance the flipline up the trunk on every 2 to 3 steps. It'll help you to maintain the system to keep pace with your body by releasing the tension with safety.
For descending, check out the downgrade position carefully. Climbing down seems difficult over poor judgment. You'll just have to reverse the entire ascending process.
How to sharpen tree climbing spikes (Video)
To get better performance you need to maintain all of the tools and equipment.  Like you should need to sharp your tree climbing spikes set for getting the best performance and comfort when climbing a tree using spikes sets. Let's see the step-by-step process.
Selecting the perfect tool for technical works is important to avoid accidental occurrences. And the aforementioned words can definitely give you some insight.
Our comprehensive details have surely, helped you understand the demands to make a satisfactory match. The whole account is hopefully enough to conclude your decision by now.
You shouldn't miss the opportunity available right here. Make the right choice from the best tree climbing spikes in the market.