They're sharp! 
Yes, we're talking about the miter saws. However, power and speed aren't the only things about these saws. And, why? Well, these saws ensure straighter cuts as well as angled cuts. 
As a result, you'll get varieties when cutting wood through these sliding miter saws. And, yes, if you're trying to pull off a larger project then you'll need the best sliding miter saw. 
And, don't you worry, we've got it under control. This is because our research team has dedicated time and effort to this guide. Finally, we're done with the guide and we've brought 7 best saws for you in budget.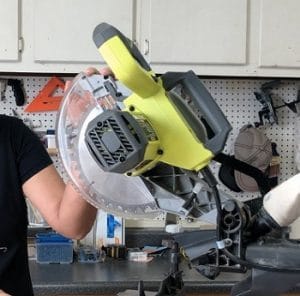 So, let's just get on with it and we'll guide you through all the sections-
Comparisons of the 7 Best Sliding Miter Saw in 2021
Best Budget Sliding Miter Saw Reviews & Recommendation
1. CRAFTSMAN V20 Miter Saw Review
This is the current price of CRAFTSMAN V20 Sliding Miter Saw (affiliate link takes you to Amazon.com).
Hold up! Before getting to know about the best miter saw in the market, let's first ask what makes a miter saw special! Is it a powerful motor? Or, is it the sharp blades? 
Well, whatever the case is, the CRAFTSMAN V20 Miter Saw provides almost everything. Even though there is no battle of numbers with this product, it'll still provide all sorts of benefits. 
And, the reason why people love this saw is the battery-powered source. Now, being a cordless saw, you won't have to worry about getting tangled in cords. 
Also, other benefits of being cordless are that the saw is extremely portable and easy to travel with. You won't have to worry about any power source and get on with the work. 
Besides, the saw is powerful at the same time even being cordless. Thus, you can carry it to the site and head on working without any worries. 
Another thing that takes portability to the next level is the rubber handles. With these handles, you won't face discomfort when carrying the saws to different sites. And, the lightweight design helps in the portability too. 
Now, we've talked a lot about portability, so let's begin with the cutting power of this saw. With a 20V motor, you won't have to worry about high-speed cutting. This is because the saw will easily do that. 
Here, the motor ensures a cutting speed of up to 3800 RPM. This means you can easily get through large chunks of wood within no time. Now, it's not about speed only. You'll need a bit of accuracy as well. Otherwise, your work won't be effective. 
Well, the saw takes care of accuracy as well with the precise system. Here, the positioning system ensures adjustment-free and accurate cuts. So, your work will be finished faster with accuracy and efficiency too. 
Other than that, the saw works well with angled cuts as well. To be precise, it can cut from 0-49 degrees. And, it can go in both directions when cutting. So, it does provide options when cutting through angles. 
Another thing that contributes to the accuracy of the saw is the rail system. Moreover, the dust collection in this saw is top-notch as well. So, it'll keep the saw tidy and workable. 
But, the saws need to be durable as well. This is because they go through a lot of construction sites. Well, there's no question about the durability of this saw as it comes with steel castings. 
Here, the solid steel ensures the durability and longevity of the saws. So, it'll hold off well against daily abuse. In the end, this solid saw comes at an affordable price too. And, with all the benefits, it's a great deal in the market.
Pros
Steel castings promote durability
Ensures sharp and accurate cuts
Works well with angled cuts
Affordable option
Has excellent portability
Cons
Doesn't have adjustable bearings
2. Makita 10″ Dual-Bevel Sliding Miter Saw
This is the current price of Makita LS1019L 10″ Dual-Bevel Sliding Compound Miter Saw (affiliate link takes you to Amazon.com).
A sliding compound miter saw is a comparatively smaller breed of miter saws. And this 10" Makita LS1019L has got everything you might ask for fast and precise cutting with such a sliding compound miter saw. Eventually, this stands at #2 on our list. 
Let's get into the details and check out the whereabouts, shall we?
First thing first, it overcomes one of the most common problems of its kind- the size-to-cutting ability ratio. With this laser-empowered miter saw, you'll get to perform all sorts of cutting. But the size of the saw is pretty compact and minimal. It's just 58 pounds, so even a single person can carry it around. 
There is a 15AMP direct-drive motor behind the cutting wheel, which can deliver up to 3200 RPM of rotational speed. You can use such speed to cut even a 4×4 lumber at one go. Call it woodworking, constructional works, carpentry, and any professional handy cutting works, the Makita LS1019L will get it done. 
With such speed, you might doubt the accuracy of the cutting. But we'd tell you not to because there is a linear ball-bearing system that is meant to keep the cut accurate. Especially on the edges, you'd get 'dead-on' accuracy at cutting. 
Sometimes, handymen have problems with the base of the miter saw. With this one, it's got an aluminum-made, large base that would be stable and vibration-proof even when cutting the largest of the subjects. 
It also has an improved startup attire comparing to its ancestors. It starts smooth and keeps it impact-free. Hence, that improves the lifespan of the gear system as well. 
Just like the start, the electric brake system is quite impact-free as well. Even amateur handyman and carpenters won't have any issue using the saw for the first time. On top of that, there is an in-front bevel lock that would make the operation even more convenient. 
About the sliding, it uses a 2-steel rail sliding system. The design is done in such a way that, the footprint is pretty less than what a sliding miter saw is supposed to have. 
With the miter saw itself, you'd have a 10 inches long and ⅝ inches thick blade, dust bad, a triangular rule, and a hex wrench. Surely, these combine into a complete handyman package for any kind of woodwork, floor construction, wall/ceiling resizing. 
But one thing that would have made the situation a bit better, and that is- the battery. This saw runs on a Li-ion battery, but it doesn't come up with any. So, you need to spend a bit extra after that. 
Pros
Sports cutting edge accuracy at high speed-cutting. 
Portable, compact and lightweight. 
Comes with a 2-steel sliding capability. 
Can deliver up to 3200RPM with the 15.0 Amp motor behind. 
Large and stable aluminum-made base. 
Smooth start and brake, along with improved gear life. 
Cons
Would have been better if it had the battery in the package. 
3. TACKLIFE 10 Sliding Miter Saw Reviews
This is the current price of these TACKLIFE 10-Inch Sliding Miter Saw (affiliate link takes you to Amazon.com).
Similar to the previous product, we have another 10-inch saw for you. Be it a cross-cut or a bevel cut, this miter saw will have you backed up in every way. 
And, the amazing part about this saw is that it'll go through plastic, metal, and wood. So, this means the saw provides options when you're doing woodworking. 
So, let's begin with the construction of this saw since durability is quite an issue. Here, the saw is made out of solid iron. And, the overall iron construction promotes better toughness and durability. 
Thus, the saw will hold off well against abuses caused in the construction sites. When compared to the plastic saws, this iron saw is in a league of its own. 
Furthermore, the saw comes with steel castings as well. This will increase durability to quite some extent. So, it'll withstand thicker woods and cut them effectively. 
And, that's not all about the construction and design. The saw comes with a cover for the teeth part. And, the overall cover provides maximum protection from any kind of accident. 
Plus, the sliding design of the saw ensures that you can cut for longer. Here, the sliding design allows better control over the longer planks as well. 
Speaking of cutting, the saw comes with 10-inch blades. As we've mentioned, it works quite well with plastic and wood. 
Now, the main part why the saw provides a faster cut is the 15-amp motor. With upto 4500 RPM speed, this saw can go through woods and plastic as if it's nothing. 
Besides, you can dial and adjust between 2 speeds. So, you can have optimum control while ensuring faster work. And, to increase the accuracy of your work, there are laser guides. So, you'll know where the blades are. 
Lastly, it does come with a dust port. Here, the chip bag attached dust port keeps everything tidy and clean. And, it's even easier to clean the dust off the dust ports too. 
So, overall, this power tool brings a lot of benefits to it. Plus, the beneficial features make everything easy and simple. Hence, give it a shot for your household. 
Pros
Allows accuracy and faster cutting
Laser guides make it easier when cutting
The teeth cover protects the fingers
Produces faster cuts due to the powerful motor
Keeps everything clean and tidy
Cons
The instruction manual is a bit complex to read
The transition between both speeds isn't smooth
4. DEWALT 12-Inch Sliding Miter Saw Reviews 
This is the current price of these DEWALT Sliding Compound Miter Saw Review (affiliate link takes you to Amazon.com).
It doesn't matter if you're a professional or a beginner, you'll love this saw. But what is in it? Well, there's a lot. From precise cutting to faster and effective cuts- you'll find it all in this miter saw. 
And, why won't it be? The brand DEWALT has been producing power tools for quite some time now. Furthermore, almost all of their products are favored by many in the market. So, let's introduce this power tool to you- 
First off, it comes with a cutting speed of 3800 RPM. Here, the powerful motor of the 15-amp ensures faster cuts in no time. Also, it makes cutting easier and effective. 
Another great thing about the motor is that it produces lesser vibrations all the time. And, the benefit of having less vibration is that you'll be able to maintain the accuracy too. 
Also, many workers prefer fewer vibrations of the saw as it provides a bit of comfort when working for extended hours. But, it's not the only thing that makes this saw worthy. 
Because along with lesser vibrations there are blade guards in this saw as well. Now, what the blade guards do is protect your hands and fingers from accidents. 
At times, fingers slip and get into accidents. But, that won't be an issue anymore. So, your fingers will be safe from the sharp 12-inch blades. 
On the other hand, the saw tilts in dual angles. So, you can tilt it the way you want to. And, the best part is that it'll provide accurate cuts without much adjustment or calibration. 
In the end, the saw has a decent dust collection that keeps the tool clean and usable. And, it comes with a straightforward and simple assembly. So, you won't have problems with the cleaning or assembly of this product. 
Hence, if you've liked what you've seen until this point, go ahead and purchase this power tool. 
Pros
Blade guards protect the fingers
The motor doesn't cause much vibration
Easy to assemble and clean
The motor provides faster and accurate cuts
Cons
Doesn't have cushioned handles
Dust collecting requires improvement
5. WEN MM1011 10″ Miter Saw 
This is the current price of these WEN 10″ Single Bevel Compact Sliding Compound Miter Saw (affiliate link takes you to Amazon.com).
Looking for a compact power tool? Well, the WEN MM1011 10″ Miter Saw is the perfect option for you. Here, the compact design of this saw makes it portable and easy to carry. Also, it saves up storage as well. 
But, the most impressive part about this miter saw is the speed and power. Here, the 15-amp motor of the saw produces 4500 RPM speed. As a result, the sharp 10-inch blade cuts through everything within a second. 
Also, the sharp blades make it easier at cutting thick woods. And, the sheer power of the motor stops before nothing. 
That's not all, you'll get a variety of cutting capacity. The saw bevels 45-degrees left and can miter on 45-degrees in both directions. And, you'll have full control of changing the angles if you want. 
Another great thing about this saw is that it comes with a miter lock feature. By using the lock, you'll be able to lock the preferred angles within any stops. So, you can continue with the cutting without having to think about angles. 
Similar to the previous products, it comes with laser guides as well. So, you'll be able to maintain accuracy and know where you're headed. At times, this does put your fingers out of the way of the blades. 
Lastly, it keeps the entire saw clean by keeping the body clean from bags of dust. So, you can go ahead and note down your favorite features from this affordable product. For the price, it brings a lot to the table. 
Pros
The design saves up space
Has easy portability
Maintains accurate cuts
Ensures fast and effective cuts
Cons
6. Kobalt Compact Sliding Single Bevel Miter Saw
This is the current price of these Kobalt Single Bevel Compound Miter Saw(affiliate link takes you to Amazon.com).
Say hello to the fastest saw in the list from the brand- Kobalt. The miter saw is capable of cutting through the wood while maintaining a speed of 5000 RPM. So, let's get on with the product- 
Here, the impressive 10-amp motor ensures the power and speed to cut through thick woods. So, the blades feel no pressure whatsoever.
On the other hand, the saw does provide different cutting capacities. The bevel cutting of 47-degrees in both directions. And, the dual rail system allows a way for smoother and effective operation between the bevels. 
Apart from this, there is a laser system to guide you through when cutting. Even though the laser isn't the brightest, it'll do the work in a dim environment. 
Now, let's talk about the construction and design of this saw. It comes with a lightweight design that makes it easier when carrying to different locations. 
Also, the solid aluminum base provides work support. So, the saw won't wobble due to vibration every time you start working on it.
Pros
Ensures faster cutting due to the blade's speed
Lightweight construction makes the saw easier to transport
Ensures accuracy while ensuring faster cuts
The aluminum base minimizes occasional wobbles
Cons
Laser light needs to be a bit more bright
7. Metabo HPT 10-Inch Miter Saw 
This is the current price of these Metabo HPT – C10FSHCTM 10-Inch Sliding Miter Saw(affiliate link takes you to Amazon.com).
We're concluding the list with another 10-inch power tool from the brand- Metabo HPT. Well, Metabo HPT is the same brand as Hitachi Power Tools. So, you can expect greater products as they're the same brand. 
And, this particular 10-inch saw doesn't deviate from the standard created by this brand. So, let's look at the special features of this power tool- 
Firstly, let's break down the design of this power tool. Here, it comes with a lightweight design of 24.2 pounds. So, you won't have problems with the portability when it comes to this saw. Also, you won't get tired easily when working with it for a long time. 
Now, comes the cutting part. And, let me tell you something. The sharp 10-inch blades ensure effortless cuts quite easily. Here, there are almost 24-teeth on the 10-inch blades. So, it makes cutting easier. 
On the other hand, much power and speed from these blades come due to the 15-amp motor. In fact, the saw produces upto 5000 RPM. And, the overall speed with the sharper blades makes sure you have no problems cutting. 
Even though it doesn't provide the best cutting capacities, you can tilt it 52-degrees in both directions. Plus, it can even bevel 45-degrees left. Hence, you have options. 
In the end, the saw collects dust in the container and keeps everything clean. And, you'll get all these benefits within a budget. So, it's better if you give this saw a shot. 
Pros
Affordable option
Cuts at a fast pace
Has a decent dust collection
Lightweight and portable
Cons
Blade provides limited capacities for cutting
Could improve on the accuracy
8. Makita 10″ Miter Saw (Best For For Homeowner)
This is the current price of these Makita 10″ Compound Miter Saw (affiliate link takes you to Amazon.com).
Now, let's introduce you to the second saw of our list- Makita 10" Miter Saw. The main difference between this product and the previous one is the power source. This saw runs on electric power. So, you won't have the best portability possible. 
However, this means you'll get an extra kick of speed when you're working with wood. Yes, it comes with a way faster speed of 4600 RPM. Hence, it'll ensure increased performance. Plus, it'll ensure effortless cuts quite easily. 
As we're on the topic of cutting, let's elaborate on it a bit. Here, the blade comes at a size of 10-inch. Now, this means, it'll have a longer reach. And, it does arrive with a relatively taller fence for normal 10-inch saws. 
Apart from that, the rail system of this saw comes with a unique design. So, due to this unique design, the rails of the saw will be alongside it. Now, this does save up some space and allows you to use the saw in small spaces. 
So, you won't have problems using it at tight corners and smaller spaces. Moving on, let's talk about the blades of this saw. Here, the blades come at 10-inches and with 60 teeth. And, it's sharp and provides accurate cuts. 
Speaking of the cuts, the direct motor ensures that the sharper blades run through wood easily. And, it makes the overall process seem simple. Now, the motor itself makes it easier at cutting larger cuts. But, how? 
Well, the motor is set within a specific angle that'll help with awkward angled cuts all the time. So, it'll make the overall process seem much easier. Besides, the aluminum base of the saw makes sure you'll get accurate cuts. 
So, all in all, the cuts you'll get from this saw will be accurate and easy. There's another thing that'll help at ensuring quick cuts while maintaining accuracy. And, that's the laser sight of this saw. 
By using the laser sight, you can navigate your way into glory. Also, this will mean you can cut the woods faster while maintaining accuracy. 
Another best part of this saw is the dust collector system. Here, the collector easily collects dust and keeps the saw clean all the time. And, you can easily accommodate the collector system into another extraction system. 
Pros
Dust collector system fits well into any type of extraction system
Ensures effortless and accurate cuts
The powerful angled motor helps with larger cuts
The laser sight feature helps with the navigation
Cons
Prioritizes right-handed users
Blade accumulates drags
Consider when buying the Best Sliding Miter Saw for homeowner or woodworking
That wasn't easy, was it? Well, going through a list of the best sliding miter saw under $300 for homeowner & woodworking is never easy. But, you'll have to pick one among the list, right? 
And, if you still aren't sure about the buying process then it'll create further confusion in the future. We don't want that, do we? So, we're here to end your confusion once and for all. 
So, let's check out all the buying factors and considerations that you'll need to make before buying the saw-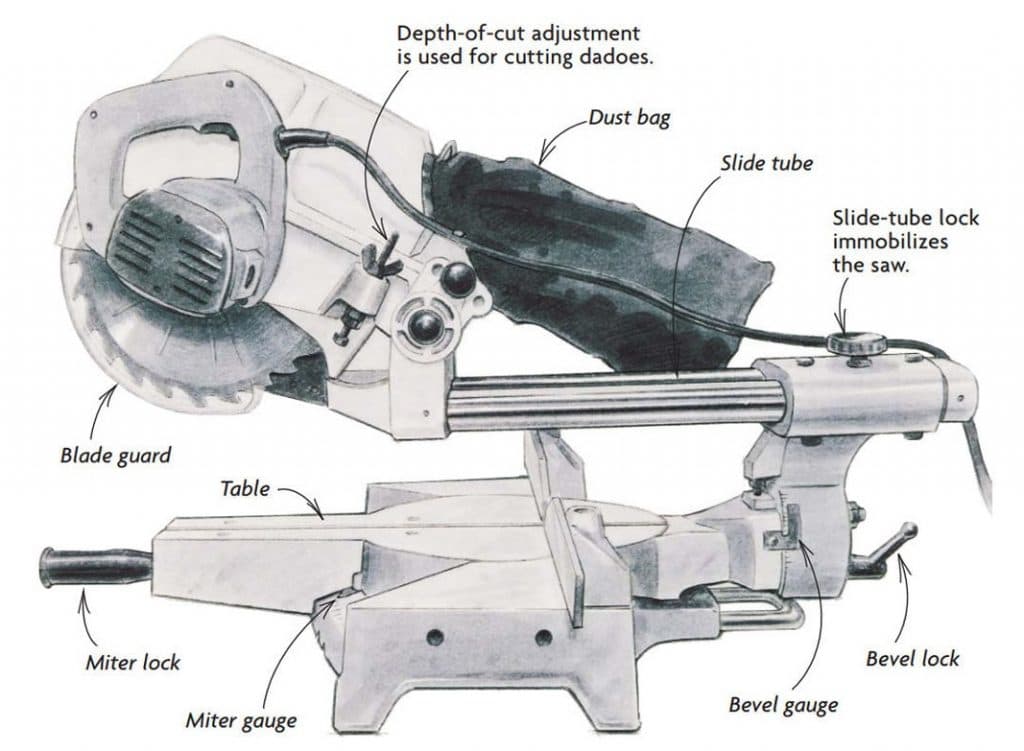 Speed & Power
Before beginning work, you'll need to prioritize what you'll need. Is it speed or power? Apparently, a powerful motor will provide all the speed you'll need in this world. 
So, get yourself a powerful motor and that'll do the trick, right? Well, there are quite some considerations before saying that. Oftentimes, there are saws that work better even at a slower speed. 
Plus, working at a relatively slower speed increases the overall control you have over the saw. But, that doesn't mean you won't be requiring that extra power. 
On the other hand, you'll need to decide beforehand what will be the uses of this saw. So, firstly, you'll have to consider whether you're getting this saw for your household or for a construction site. 
If you're going for a construction site then 3500 RPM would do the job. But, for the household chores, going below that would be fine too. 
Cutting Factor
Yes, power and speed are major priorities. But, you'll need to consider the cutting factor of these power tools too. And, why is that? Well, at times, you'll need to cut at angles. 
So, your saw should firstly allow that. Otherwise, you won't be able to produce effective cuts much more often. Hence, check for the bevel and its angles. 
By this, you can cut your saws from different angles and ensure efficiency in cutting as well. 
Blades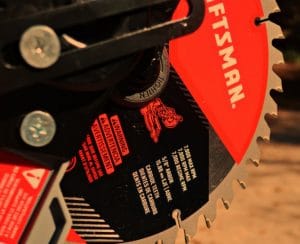 Blade size differs on a lot of factors. Mainly, it'll depend on the project you're going to use your saw. So, if it's for the bigger projects then get yourself a 12-inch or a 10-inch saw. 
But, if it's for the household chores, getting a 4-inch saw would do. Generally, the larger the blades of the saw, the larger woods you're going to cut through. 
So, you'll need to decide accordingly.
Corded Vs. Cordless
When it comes to power sources, there are electric and battery-powered saws in this list. In fact, we've mentioned cordless saws in the list as well. So, what's better between them? 
Honestly, both of them have their own benefits. So, let's begin with the corded saws. 
Here, these saws produce a lot of power and speed. So, cutting through thicker woods is much easier. Moreover, it even provides room for maintaining accuracy. 
So, cutting-wise, the corded saws do get an extra point. Whereas, the corded saws have problems like they're tough to carry on sites. And, they'll need an external power source too. 
On the other hand, cordless saws don't come with this problem. These saws are easy to carry on different sites. So, they have excellent portability. Plus, you won't have to deal with cords. 
In fact, they can run smoothly without any external source. So, they earn extra points here. But, you'll lose speed and power to quite some extent with these saws. 
So, in the end, it depends solely on what uses you're going to go for with these saws. Because they both will provide multiple benefits. 
Dust Collection
When you're doing woodworking, a lot of dust is released within the surface of the tool. So, a better dust collection would help a lot. 
Here, you'll need to check whether the power tool has a decent container for the dust collection. By ensuring this factor, your saws will be clean and tidy in the first place. 
Safety Factor
Last on the buying factors is safety. Yes, you'll need tons of safety features in your saw so that you don't cut anything off. 
Hence, look for finger guards and teeth covers. Here, the safety factors in the saw will make sure your hands are safe from the blades. 
How to Use a Sliding Miter Saw Safely
You must know some basic rules of using a sliding miter saw, if you want to have a perfect cut with it. In this section, we have included all the information you need in this regard.
Steps to follow:
Step1: Familiarize yourself with the controls
Before getting started, make yourself comfortable with all the basic controls of this machine. Read the instruction manual and try to find out important locks and bolts.
Step 2: Calibrate Your Miter Saw
To calibrate, keep the machine unplugged.
Examine The blade
Spin the blade manually and try to find if there is any irregularity like broken teeth, bend, wrap. If you got any, you should replace the blade with a new one.
Level the table
Put a flat level on the table. Try to find out if there is any gap between the table and the level. If the gap is too big, you should buy a new machine.
Square up the fence with the blade
Pull the blade down. Set a combination square between the fence and the blade. If you get any gap between the square and the blade or the fence, then adjust your fence.
Adjust the bevel
Tilt the saw to 45° and put the combination square between the blade and the table, keeping the hypotenuse on the table surface. If there is a gap between the square and the blade, align the bevel accordingly using the bevel adjustment lock.
Step 3: Adjust your material on Table
Put the material to be cut against the fence and clamp it.
Step 4: Decide the type Of Cut
You can make three types of cut. These are miter cut, bevel cut, compound cut.
Miter Cut:
A miter cut refers to an angled cut in which you change the horizontal angle of the cut. To make a miter cut, undo the knob of the miter lock to unlock the miter gauge. Then slide the miter gauge to the angle you need to cut. In most saws you will find detents at common angles.
Bevel Cut:
A bevel cut refers to an angled cut in which you change the vertical angle of the cut. To make a bevel cut, undo the lever at the lower back side of the machine to unlock the bevel gauge. Then tilt the blade to your desired angle to make the bevel. Like a miter gauge, you will find detents at common angles.
Compound Cut:
Compound cut means to perform both miter and bevel cuts at a time.
Step 5: Make Your Cut
Pull out the blade by the handle until it is over the material's edge. You will find an on/off trigger at the top of the machine. Pull the trigger and wait for the blade to get to its full speed. After that, gently lower the blade onto the material to cut.
When it starts to cut, push it through the material maintaining the speed of the blade. Once you complete the cut, release the trigger while the blade is inside the material and wait for the blade to stop.
Safety Tips:
Wear safety glass and use earplugs or ear defenders for the protection of your eyes and ears.
Use a full-face visor while cutting the metal of masonry.
Keep an eye on your hands all the time
People Mostly Asked When Buying the top-rated sliding miter saw
Question: Is it possible to ensure straight cuts with a miter saw? 
Answer: Yes, straight cuts using a miter saw are possible. Using a miter saw, you can ensure angled cuts quite easily. So, ensure 90-degree cuts for yourself as it'll provide a straighter cut. 
Question: What's better? Table saws or Miter saws? 
Answer: Normally, table saws are used for making straighter cuts. Whereas, miter saws make angled and straighter cuts at the same time. So, overall, the miter saw provides a bit more options when working with them. And, the table saw provides benefits when working with flooring projects. 
Question: What advantages does the miter saw provide? 
Answer: Above all, miter saws work at providing versatility. This is due to the sliding feature of the saw. When working with the miter saw, you can move blades in the forward and backward direction. So, you can increase the cuts by quite some extent without stretching much. 
Bottom Line
Just like all good things, our review guide has to come to an end. If you've stuck till the end then you should've selected the best sliding miter saw. And, if you're still confused then there are a lot of options in the list. 
Just remember, all of these saws are the best sliding miter saw under $300 for homeowner & woodworking. So, you'll get great power tools within a budget. 
So, give it a try and let us know in the section below about your experience. Good Luck!