When it comes to the tools of your woodworking workshop, you simply cannot do without a miter saw. It allows you to make cuts at different angles, which is perfect for crown moldings, picture frames, and other intricate designs.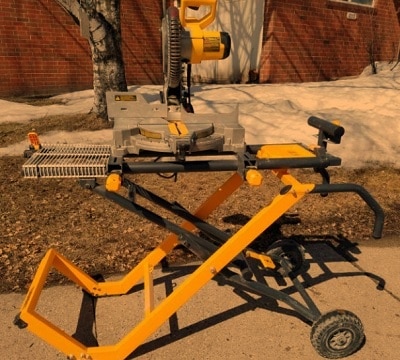 And it goes without saying; you also need a specialized stand to set and operate your saw. The stand has a very simple structure, and you may think of just using any random product. But to get the best performance and safety out of your saw, you must only settle for the best miter saw stand with wheels. 
We have a complete review and buying guide for 10 of our favorite miter saw stands which we know you will love!
Grab The Best Mitre Saw Stand with Wheels From Top Five
If you have not much time to read the details guide, you can go to the products page through our given link. Or start to discover in-depth reviews with hand-picked recommendations.
Reviews of The 10 Best Miter Saw Stand with Wheels in 2021
Miter saws can be convenient and quick to use, but only when they are used with the right stands. The stands also are set at a comfortable height, reducing the operator's fatigue since you won't have to hunch over anymore. Keep reading to know what features you must look out for.
1. DEWALT Miter Saw Stand with Wheels
This is the current price of these 'DEWALT Miter Saw Stand With Wheels (DWX726)' (affiliate link takes you to Amazon.com).
DEWALT has been around for nearly a century and surely knows how to create the best power tools. So, it was no surprise to anybody when they released the DWX726 rolling miter saw stand, and every contractor fell in love with it. 
Due to their tubular steel construction, these saw stands are highly durable and can withstand heavy-duty on-site tasks easily. You have easy mobility around the job site due to the wide rubber-tired wheels and a locking mechanism that makes the set-up and take-down seem like a breeze.
Three pneumatically assisted positions allow you to adjust the stand at your convenience. It has an adaptable mounting system that can fit all miter saws as well as infeed and outfeed extension arms to work to fit materials up to 8 meters long! 
The saw stand may look complicated to work with, but it could not be simpler. And it is cheaper than you think! 
Pros:
Height can be adjusted to fit people of different height range.
Durable rubber-tired wheels for easy mobility. 
Adaptable mounting design to fit all miter saw brands.
Adaptable mounting design to fit all miter saw brands.
Cons:
Cannot hold more than 300 pounds of materials. 
Heavyweight restricts mobility.
2. BOSCH Wheeled Miter Saw Stand
Check the current price of these BOSCH Portable Gravity-Rise Wheeled Miter Saw Stand (affiliate link takes you to Amazon.com).
Bosch releases more than 100 pieces of equipment and accessories every year, but very few come close to their innovative T4B portable wheeled miter saw stand. It is still extremely popular despite being released seven years ago. 
These saw stands feature Bosch's patented gravity-rise system, which makes the set-up and take-down look like a child's play. With its 8-inch pneumatic wheels, mobility and transportation will be the least of your issues.
The outfeed can hold wood up to 18 meters long which is the highest parameter for any portable unit. The height capacity is around 12-inches, but you can adjust it according to use. 
Besides having a universal tool mounting system to support major saw brands, this miter saw stand is also equipped with telescoping leveling feet to keep the work surface stable when you work.  
Pros:
Highly durable pneumatic wheels for easy portability on uneven grounds.
Bosch's patented gravity-rise system allows easy assembling and disassembling. 
Standard mounting system to use with major saw brands.
Telescopic leveling feet eliminate vibrations and maintain the balance of your station.
Cons:
Large-sized and need a huge space to store. 
Expensive pricing. 
3. DEWALT DW7440RS Rolling Saw Stand
This is the current price of these 'DEWALT DW7440RS Rolling Saw Stand (affiliate link takes you to Amazon.com).
Of course, we had to include another great DEWALT power tool in our list. The DW7440RS is a star amongst power tools and is highly durable and easy to use. 
This miter stand has been built to handle medium-duty tasks and can handle only 200 pounds at a time. It has an aluminum frame instead of the usual steel, which makes it lighter than most other options.
The integrated kickstand always keeps the stand upright. Combined with its wide range base and offset rear legs, you can easily feed in your materials without worrying about it toppling over. 
Its surface is coated to reduce friction when you work. This allows you to get precise and premium quality cuts every time. You can also use the surface for other applications and adjust the tabletop height to your convenience as well.
Mobility is a no-brainer with this saw stand due to the large and strong wheels and telescopic soft-grip handles. And once you are done using the stand for the day, just pull the quick-release levers for the folding legs and store it until the next use. 
Pros:
Lightweight and easy to carry around. 
Kickstand that keeps the table upright during use and store.   
Reduced-friction table coating that allows quick and precise cuts. 
Retractable and soft-grip handles for comfortable pulling. 
Cons:
Not suitable for heavy-duty projects.
Not suitable for heavy-duty projects.
4. BORA Portamate Miter Saw Stand with Wheels
This is The Current Price of these Folding Miter Saw Power Tool Stand with Wheels (affiliate link takes you to Amazon.com).
When it comes to sturdy and good-quality contractor saw stands, the BORA Portamate-7000 is an excellent option. It has an array of features that makes it an easy favorite. 
Setting up this stand is very easy; just swing the folding legs under the center position until they snap into place. Despite being lightweight, it has a holding capacity of 500 pounds and is well-matched with miter saws, band saws, scroll saws, and more. 
You can flip the miter saw upside down and use the entire surface as a workbench for other activities. However, we don't recommend using it for heavy-duty tasks which require pounding or drilling as your stand may not be able to handle it.  
This saw has been designed while keeping a contactor's convenience in mind and has included features such as front lumber storage racks, storage compartments, work vice, and work lights alongside wide 8" wheels for easy movement.
The ruggedly built equipment also 4-110V outlets and a 33" adjustable work height that makes it perfect for versatile uses. 
Pros:
Quick snap-pin assembly during set-up and take-down.
Inexpensive pricing. 
The accessories storage compartment enables a clutter-free workspace. 
Multiple 100V power strips included that allows you the freedom to choose where you work.
Cons:
All accessories are not functional. 
Can be slightly unstable.
5. WEN MSA330 Rolling Miter Saw Stand
This is The Current Price of these WEN MSA330 Collapsible Rolling Miter Saw Stand (affiliate link takes you to Amazon.com).
The steel-framed WEN MSA330 saw stands are one of the sturdiest power tools in the market that not only fits WEN miter saws but nearly every other miter saw there is. 
This saw stand has one of the strongest bases for sawing, with sliding arms extending up to 79 inches wide. They can contain 3.2 meters long woods and allow you to work without any difficulty. Don't worry about overloading your machine, as the maximum weight capacity is around 330 pounds. 
There are wide mounting holes on the front and the back which can fit in different branded saws, which is perfect for the larger 12-inch saws. It also comes with three 120V power outlets that can supply 15A power for your tools. 
This stand has been built to last. It has a powder coating that prevents corrosion and marring, as well as two never-flattening wide wheels. The sturdy structure alongside its foldable design makes it one of the best portable units in the market.
Pros:
Can fit larger saw blades which enables more versatile cuts.
Three pre-mounted 15A 120V power outlets for worker's convenience.
Sturdy powder-coated steel frame for extra durability and less wear and tears.
8-inch never-flat wheels for smooth transportation across job-site.
Cons:
Nuts may have a weak weld.
6. POWERTEC – MT4000 Deluxe Miter Saw Stand
This is The Current Price of this POWERTEC – MT4000 Deluxe Portable Miter Saw Stand with Wheels (affiliate link takes you to Amazon.com).
Next on our list of portable miter saw stands, we have the POWERTEC MT4000. It is a strong, well-built structure with steel tubing and wheels for quick transportation.
It has a 110V 3-prong power supply outlet along the lower base to connect your tools to. This eliminates the need to look for a nearby outlet when you work. The steel legs have a spring-loaded mechanism for fast assembling and disassembling.
These features alongside the adjustable steel rollers work as a strong base for your workpiece. 
You do not need to have POWERTEC miter saws to use these stands as they contain fast-release universal mounts compatible with every miter saw in the market, alongside other benchtop saws and planers. 
This compact designed MT4000 also features flip-down storage for lumber and material storage to increase your accessibility to work materials. Furthermore, you can tweak the leveling feet to provide the best stability on rough surfaces and reduce any possible accidents. 
Pros:
Three 110V power outlet strips that eliminate the need for a nearby power socket.
Spring-loaded locks on the leg for quick set-ups and break downs.
8-inch neoprene wheels for hassle-free transportation. 
Extremely versatile. 
Cons:
Less weight capacity and not suitable for heavy-duty tasks.
The spring legs can be hard for new users to comprehend.  
7. PROTOCOL Miter Saw Workstation
This is The Current Price of these PROTOCOL Miter Saw Stand with Wheels (affiliate link takes you to Amazon.com).
The Protocol contractor miter saw-stand is a top-of-the-line quality saw-stand on par with other premium brands. It does what it needs to do and, fortunately, is priced more reasonably than you could ask for. 
This professional-grade stand has an industrial strength of handling 500 pounds of materials, which makes it perfect for on-site construction jobs. You can alter the tool mount brackets with 6-inch handles to work with most miter saws.
Using the extension arms, you can adjust the infeed and outfeed width to be as long as 77 inches and as compact as 35 inches. There are also multiple outrigger modifications for the height, depth, and alignment offsets. However, the base is not very sturdy and can sag to one side even under no load. 
The levers make it a snap for the legs to unfold and set up. Because of their capped feet, you can also use the stands on finished flooring. This counteracts the lack of floor leveling adjustment, which makes it hard to use on uneven grounds anyways. 
Pros:
Easy to operate due to the adjustment knobs and levers. 
Transport wheels for convenient wheeling and hauling. 
Adjustable height to reduce pressure from your back. 
Universal mounting eliminates the need for offset adapter plates. 
Cons:
No floor leveling adjustment, so it needs a flat solid surface to work on.
8. ToughBuilt Miter Saw Stand
This is The Current Price of these ToughBuilt – Universal 77 In Miter Saw Stand (affiliate link takes you to Amazon.com).
You need the most durable equipment in construction, something that candle handle all the abuse and still be ready for your next project. The ToughBuilt miter saw stands is one such product. 
It has a cross beam structure for the perfect balance and stability while you work. You can extend it to get the full 77-inches long length that allows you to cut larger designs. With the 29-inches height, you will be pleased to see no sagging in your cuts. 
There are pegs installed around the stand for you to hang and store your materials, resulting in a breathable and uncrowded workflow. It features two extending work supports, two left, and right work stops, and two quick-release tool mounts to effortlessly clasp in your miter or chop saws. 
One of the shortcomings of this stand is the access to levers for collapsing the legs. Its placement is a little awkward and can be hard to reach, which makes the disassembling a little harder than necessary. But except for this slight problem, this high-quality saw stand is amazing for its price. 
Pros:
Solid, industrial-strength build that can handle severe abuse.
Easy to move around and store in small spaces.
Support pegs for hanging materials off the ground. 
Convenient cam locks for the material support extensions that can be accessed with just one hand. 
Cons:
Awkward lever placements make the set-up and take-down a little complicated. 
9. DELTA Power Foldable Miter Saw Stand
This is The Current Price of these Delta Power Foldable Miter Saw Stand (affiliate link takes you to Amazon.com).
When it comes to folding miter saw stands, we prefer the Delta 36-267 for its large OD steel tubing construction that supports up to 350 pounds. It also has a premium feel to it, which is a surprise considering its very inexpensive pricing. 
It has a pretty straightforward assembly. Just press on the foot-actuated pedal for a one-step set-up and fold down. This allows you to use the least amount of space for storing your saw stand, and that too with the miter saw still attached. 
Designed to fit almost all miter saws, the 36-267 can even clasp on the larger 12" units without any trouble. It has a larger footprint that results in greater mobility and transportation, which makes the trade-off on compactness completely negligible. 
This saw stand will reduce your downtime and will increase saw set-up speed. With other features such as the extendable bars and tool trays, there are so many things to like about this stand. 
Pros:
Large footprint results in greater mobility.
Easy to assemble and use even by beginners.
Rugged and stable built that can withstand extreme conditions.
The folding design takes up less space, even with the saw attached. 
Cons:
Large-sized and can be difficult to store.
Paint peels off fast. 
10. GoPlus Folding Miter Saw Stand
This is The Current Price of these Goplus Folding Miter Saw Stand with Wheels (affiliate link takes you to Amazon.com).
GoPlus is a renowned tool brand known for its high efficiency, convenience, and pragmatism in its tools. That is why we could not help adding their folding miter saw stand to our list. 
Crafted with iron, this miter saw stand can be used in all environments and conditions. It has a unique triangular structure that balances the table and keeps it upright when in use. You can load on about 300 pounds of materials at a time, and use just about any miter saw there is. 
Despite its large weight capacity, the stand itself is very light and amounts to only 26 pounds. Combined with the two rolling wheels, you can lug the stand around to wherever you go or even pop it in the back of your truck if you need to. 
The dual sliding rail can extend up to 110", which gives you the freedom of working with materials of different lengths. You don't need to be concerned about accuracy, as well as the end stops help in the precise cutting. This professional-grade saw stand is truly an innovative, must-have product. 
Pros:
Capped feet to allow use in finished surfaces without scratching.
End stops to allow precise material cutting. 
Compact in size to save working space. 
Saw mounting bracket for quick mounting and removal of saws. 
Cons:
The wheels are small and break down under pressure.  
Before You Buy the Best Miter Saw Stand With Wheels in 2021
What to Look For:
There are a few common features that should be present in the miter saws you choose. That is the only way you can ensure you are getting the best value out of the money you are spending. 
Type of Stand
Just like how you need different saws for different cuts, you also need different miter saw stands. There are typically four types of stands: 
Traditional Miter Saw Stands
It is the simplest form of miter stand and usually comprises of a solid wooden plank held by strong and durable wooden sawhorses.
Compound Miter Saw Stands
Instead of wood, these stands are made with metals and features two legs. 
You need these stands when using tabletop saws. 
The rail miter stands are now the most popular in the market and have a flexible folding design, priding on their portability. 
Construction 
As you would expect in any construction site, your stand will be undergoing severe strenuous activities. They must be able to withstand all kinds of abuse and possible accidents and able to handle a heavy workload. 
Look for sturdy and rust-resistant materials that won't show wear down fast. You should check the crafting for the stand-related accessories too. 
Portability
Working on different job sites means you must be looking for a miter stand that you can carry around. To reduce the stress from your body, you should check on the weight, size, and wheels. For lightweight stands, you may not need wheels if it has a flexible folding design that you can easily set up and take down.
Capacity
By capacity, we mean the loading weight strength of the stand. If you have a large project, you need to ensure your stand can handle the heavyweight of the materials alongside the weight of the tools.
You don't want your equipment to break down in the middle of a project which would mean you won't be able to use it anywhere else.
Smaller, portable saw stands have the least weight capacity and strength. Choose these models if you don't plan to work on the heavy stuff. Average-sized stands, on the other hand, can carry about 500 lbs. at most, but they have less mobility and portability.
These type of stands usually has wheels. On the other hand, larger stands can put up with 700 lbs. but they are made to remain stationary in workshops. 
Setting System
You should look for stands that are straightforward to prop up and take down. If they have levers, they must be easy to access. Moreover, the clamp system must be universal and fit most miter saw brands. 
Stability
When cutting with a saw, it is natural for your stand to wobble, shift, or vibrate. But with an unfortunate move, a big accident could happen. The durability and stability of the miter stand are top-priority and should never be ignored. 
Stands with rubberized grips on feet or sturdy locking wheels are some of the features you can search for. Moreover, you should look for floor leveling adjustments since you won't always be working on flat, even grounds. 
How to Mount a Miter Saw on a Stand? 
The process of mounting may seem complicated, but once you get the hang of it, it is very easy. 
Step 1: Check the device's motion of the fluid
Before you start, you need to ensure that the saw is in the proper place and that you can move the miter and bevel comfortably. 
Step 2: Mark the mounting holes
Use a pencil and make marks for the holes for screws on the baseboard. You need to mark the front and back ones after removing the saw. 
Step 3: Mount the miter saw
Drill holes according to your labels and mount the miter saw. Double-check to see if the screws are in place. 
There you go. Now you are all ready to start using your saw. 
Frequently Asked before buying the Miter Saw Stand With Wheels
Do I need to use a miter saw stand? 
For the best speed, accuracy, and control, there are no other alternatives to a miter stand. Operating the device on the plain ground or other surface increases the possibility of mistakes and can also hurt your back.
How Do I mount a miter saw on a stand? 
We have included a step-by-step guide above to help you out. Remember to label correctly and properly secure using screws and nuts. 
Is it possible to employ a miter saw stand for a table saw?
Yes, you can – but it is recommended not to. It could lead to injuries and can be very dangerous. There is the possibility of a miter stand tipping over when used with a table saw. 
Are all miter saw stands universal? 
While not all miter saw stands are universal, most come with a universal mounting system that allows you to clamp almost all miter saws despite the brand. 
Which brands make the best 12" Miter saw stands? 
There are some amazing power tool brands out there, but our favorites are Bosch, DeWALT, WEN, Tough Built, amongst many others. 
Final Words
We hope we have provided you with all the information you need to choose the best miter saw stand with wheels that you can add to your workshop. Remember, the quality of the stand you choose will highly impact the quality of your work as well. 
Related Article: