Any standard saw can make your everyday life easier from different perspectives. But a hand saw certainly serves occasional & small-scale purposes.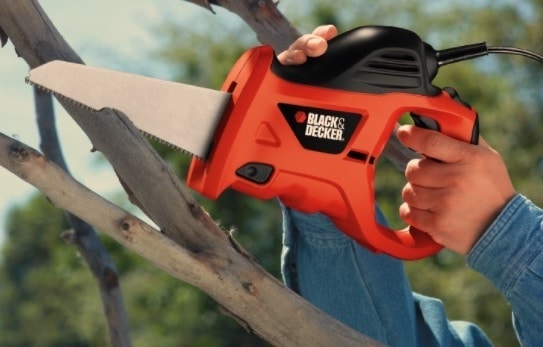 There are many options to consider with all the overwhelming choices.
Among the preferable options, you can't put aside BLACK+DECKER models. And we're talking about PHS550B in particular.
It's one of the best electric hand saws to meet the expectations within budget. Specialized design makes the intended one a great saw to keep in mind.
Our expert team explores everything about the model to cover the details. Going through the article should help you understand the accessory from its core. 
Why BLACK+DECKER Stands Apart in Electric Hand Saw
BLACK+DEKCER is one American manufacturer to produce different power tools & accessories. The company has remained in the industry since 1910, delivering many innovative idealizations. Among the different types of products, its electric hand saw is definitely worth mentioning.
Powerful motor cuts through almost any common items like plastic, wood & metals. Several advanced features help you to attend the optimum accuracy, regardless of the conditions.
The reciprocating saws are compact enough to ease your task in narrow sections. Lightweight design enables superior handling efficiency for any passionate user. Tool-free blade changing facility lets you get the ultimate precision for commercial, occasional & other relevant tasks.
BLACK+DECKER PHS550B Electric Hand Saw
Accomplish all the small-scale cutting jobs with comfort, ease & accuracy. BLACK+DECKER designs a suitable handsaw to deliver absolute perfection. Versatile uses, functional features & supportive design – you'll have everything in one unit. There, it's one of the best electric hand saws you can find. You may think of putting extra effort to induce the required force. But PHS550B stands out as an oil-fashioned, traditional hand saw from the beginning. Instead of a standard chain saw, the mechanism comes similar to jigsaws. Meanwhile, the built-in regular mechanism lets you handle the saw comfortably. The price tag appears different with the availability of certain mechanical parts. But the valuation manages to remain affordable, worth every penny.
Powerful Built-in Motor:
The corded electric machine features a powerful motor to make the strokes. It comes with a 3.4Amp rating to provide the outcome at 120V. The saw can deliver a maximum of 4600 SPM (Strokes Per Minute) action. Its flawless functionality makes the cuts almost immediately within your reach.