Long gone are those days where you've to deal with rolls of power cables that used to power up your circular saw from a wall outlet.
In 2021, we have got the wonder called cordless circular saws that run on DC batteries and serve the purpose well.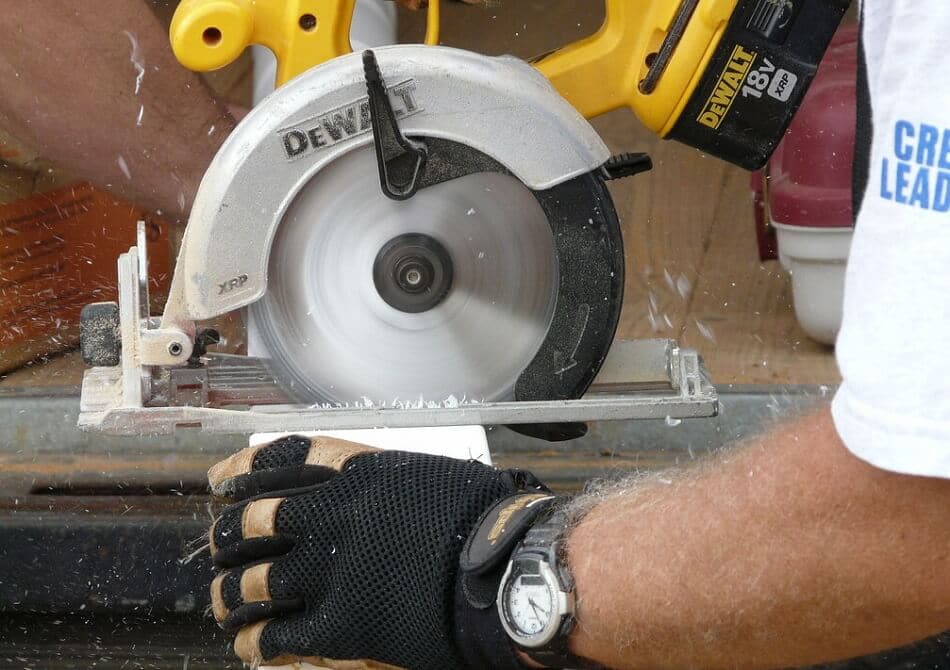 In fact, they can serve even better than those typical electric circular saws as well. But to meet the ends of portability and usability, you need to watch out for those shiny advertisements that make fools out of most new users.
In case you don't want to end up with one of those purchases that you regret later, you are right on the spot. Here, we've hand-picked 5 best cordless circular saw reviews along with an extensive buyer's guide.
If you're on board, why waste any more words? Let's roll in-
Comparison Of the 7 Best Cordless Circular Saw for Beginners
The 5 best battery powered circular saws Reviews 2021
In 2021, lots of cordless circular saws are available in the market. But all saws not suitable for beginners. We review the top 5 battery circulars saw for beginners. We explained everything why they are best & perfect for working.
Let's start –
1. DEWALT DC390B – Cordless Circular Saw Review

This is the current price of these DEWALT DC390B 6-1/2-Inch 18-Volt Cordless Circular Saw (affiliate link takes you to Amazon.com).
SPECIAL FEATURES:
Max Speed: 3,700 RPM
Power: 18 Volt Battery
Price level: Lower Price level
Light Weight & Professional Circular Saw
Fast Cutting
Presenting the #1 pick of the list- the DEWALT DC390B. We know it's not a winder when a Dewalt product tops the list of a power tool. But let us put it in the way that- this tool actually is better in features and usability than the rest of the models that we put our hands on.
Seems clumsy? Let's explain how-
The DEWALT DC390B is the top cordless circular saw that can provide a motor speed of 3700 RPM at best. It's good and fast enough for any kind of carpentry and woodworking projects on both professional and non-professional basis.
The blade is made of carbide, which checks the box of maximum durability and toughness. Being a 6-½ inches blade, it can provide you a handful of usability as well. In case you want to cut angular, the available angles are 45 and 90 degrees- just like you wanted it to be. By the way, the bevel capacity ranges from 0 degree to 50 degrees.
With so much going on, you might wonder if it'll handle all of them? Well, to keep things cool, the motor is made to be fan-cooled, which is a rare feature. Also, in case you boost up the performance every now and then, you can replace the brushes of the motor.
Another strong reason why you might fall in love with this package is the tough system tote this saw brings with itself. As a matter of fact, if you're working outdoors, it's very likely that you won't find a perfect place to put the saw safety. Take this tote with you, and you're done with all these worries.
This tote sports a solid and thick wall around, while the opening is kept as large as you need to put the saw in peace. In case you want to organize the space inside it, there is a divider system to make it happen for you.
What We Liked:
A brushed motor of 3700 RPM max speed.
Carbide-made tough blade of 6-½ inches.
Safe and tough magnesium guards to protect the user.
A bevel range of 0 to 50 degrees.
The motor is fan-cooled, so no overheating.
It comes with a tough and protective tote.
The overall cost is very reasonable.
What We Disliked:
Some users might find the tote unnecessary as they work from the garage.
2. BOSCH Bare-Tool CCS180B Circular Saw
Special Features:
Max Speed: 3,900
Battery Power: 18V
Weight: 7 lbs
Blade Length: 6.5 Inches
Depth of cut: ¼ – 2 inches
Maximum Cutting Capacity: 50 degree
This is the current price of these BOSCH 18-Volt Lithium-Ion Circular Saw (affiliate link takes you to Amazon.com).
3. Best Makita Cordless Circular Saw – Makita XSS02Z

This is the current price of these Makita XSS02Z 18V LXT Lithium-Ion Cordless Circular Saw (affiliate link takes you to Amazon.com).
FEATURES:
Max Speed: 3700 RPM
Maximum Cutting Capacity: 50 degree
Weight: 7.04 Pounds
Our first impression about the Makita XSS02Z was its ability to cut more with a greater speed of many of its similar models. It can cut 2X material if you imply the blade at an angle of 45 degrees
The reason behind such high performance is- It has got a motor that rotates at 3700 RPM speed. If you think about battery powered circular saws, that's quite a high number. Along with that, a heavy gauge and a machined(precise) base had accompanied the performance. All it will result in a precise, smooth, and accurate cutting job.
To power this cordless circular saw, there is an 18V Li-ion battery, which is one of the greatest lineups from Makita- the power tool giant. On top of that, the charging time is quite fast compared to other 18V battery sources.
For users, the circular saw had been as a comfortable and convenient machine to run. There is a rubberized grip song with a solid handle. Using this circular saw can be one of the best woodworking experiences you've had so far.
Going out of control is often a thing that might happen all the time. To make sure this saw stays in the safe zone, there are features to protect overcharging, overloading, and overheating. So, you won't need to worry about unintentional damages occurring from the electric and power part of it.
The only thing that we can complain about is, it doesn't come up with either a battery or a charger. So, you will need to spend a bit after them.
Suggested Battery: Makita 18V Lithium-Ion 3.0Ah Battery
What We Liked:
3700 RPM motor speed.
Quick charging 18V Li-ion battery.
Protects against overheating and overcharging.
Easy to use with a comfortable rubber grip.
It provides two times the cutting speed.
It provides 50 degrees of bevel cutting capacity.
What We Disliked:
It doesn't come with the charger and the battery.
4. BLACK+DECKER 20V MAX 5-1/2-Inch Cordless Circular Saw


This is the current price of these BLACK+DECKER BDCCS20C 20V Max Cordless Circular Saw (affiliate link takes you to Amazon.com).
FEATURES:
Cutting Capacity: 45 and 90 degrees
Battery & Charger Include
Dimensions: 14.25 x 8.38 x 9.25 inches
Battery Power: 20 volts
Blade Length: 5.5 inches
This Saw able to 2×4 & bevel cuts:
Black and Decker had been quite a famous name around the carpenters and woodworkers. This time, we have got a circular saw that comes with a remote battery power in it. It's called the BLACK+DECKER 20V MAX and we're going to reveal why it's special to us.
While you're processing your woodworking projects, it's often needed to make proper angular cuts. With the BLACK+DECKER 20V MAX, this will be better than ever. This saw comes with a tool-free adjustment of the bevel. What this does is, let you make angular cuts with utter accuracy. Not so many circular saws out there provide this facility.
In case you're willing to know about the ranges of the bevel angles, it's 45 and 90 degrees. I think that will cover most of the usual woodworking needs for a carpenter.
Apart from that standout feature, this tool also provides a fast-cutting blade. If it's a hardwood or a thick pile of wood that you want to get done with quickly, the BLACK+DECKER 20V MAX is the circular saw you'd be looking for.
In case you're worried about the durability of the blade itself, let us assure you that it comes with a 12T carbide blade. In case you don't know it, Carbide blades are of the best within its kind. All you need to do is sharpen it on a regular basis.
About the battery, this saw runs on a 20V battery, which will keep the saw running for quite a decent timespan.
The last thing that we'd like to end this discussion with is the price. It's neither a budget saw nor a premium one. So the price point lies within the sweet spot that everyone loves to think about.
What We Liked:
12T carbide blade.
Fast cutting with bevel adjustment.
It can make it special when going for an angular cut.
The depth of the cut adjustment is tool-free.
What We Disliked:
Not so protective against overcharging and overheating.
5. PORTER-CABLE 20V MAX 6-1/2-Inch battery Circular Saw review



This is the current price of these PORTER-CABLE 20V MAX 6-1/2-Inch Cordless Circular Saw (affiliate link takes you to Amazon.com).
FEATURES:
Max Speed: 4000 RPM's
cutting capacity: 2-1/8′
Battery Power: 20 volts
Blade Length: 6.5 inches
Dimensions: 15.25 x 9.63 x 8.38 inches
Weight: 0.16 ounces
The next pick of this list of top battery powered circular saw is, in fact, the most budget-friendly entity of the listing. It's called the PORTER-CABLE 20V MAX 6-1/2-Inch Cordless Circular Saw, and just because it's within a low budget doesn't mean that Porter-Cable had compromised to stuff it with features.
Here goes the in-depth analysis of what it's got and what it hasn't-
The first thing that we want to start with is its high torque motor. In fact, having a 4000 RPM of max motor speed is no fun when it comes to budget circular saws. But this model seems to make it possible. And with that, it will provide you with one of the quickest cutting experiences no matter whatever the wood type is.
The tooth dimension is 6-½ inches, which is perfect for a variety of cutting purposes. In case you want to bevel the cut up, it will allow you up to an angle of 50 degrees. On that note, let us tell you that it's not the best circular saw to perform an angular cut with.
To make sure that it becomes a comfortable experience to run this machine, the handle is contoured and over-molded. So, no accidental slipping off while you're working with PORTER-CABLE 20V MAX 6-1/2-Inch Cordless Circular Saw.
This awesome cordless circular saw comes with a 20V battery power, which had increased the weight of the saw. But it's overall a good thing if you're working on remote sites, right?
So, that was all about this portable circular saw from the inventory of Porter-cable. We hope you'd love it if you're looking for anything that satisfies a low budget.
What We Liked:
4000 RPM of motor speed.
20V battery power with high performance.
Serves a variety of cutting purposes.
Over-molded and contoured handle design.
It provides a bevel angle of 50 degrees.
Compact and rigid design.
One of the most budget-friendly models out there.
What We Disliked:
It is a bit bulky.
Not the best for angular cutting.
6. Milwaukee M18 2630-20 – battery Circular Saw


This is the current price of these Milwaukee M18 Cordless Circular Saw (affiliate link takes you to Amazon.com).
FEATURES:
Max Speed: 3,500 RPM
Batteries: 18 Volt Lithium Ion batteries
Cutting Diameter: 6.5
Blade Length: 6.5 inches
Dimensions: 8 x 12.2 x 10 inches
You might be wondering why we took it so long to call up a brand like Milwaukee so late. Well, we kind of tried to save one of the best for the last. But a quick warning before we proceed is- it's a premium model that will cost more than any other models in this list.
If you're still up, here goes the technical details of the specs of this model-
Let's talk about the specs that define the performance in the first place. The motor speed is 3500 RPM, which is standard for most of the applications. You can make angular cuts at an angle of a maximum of 45 degrees. If not the best, it's a decent angle for bevel cutting. While doing the angular cutting, the depth will be as much as 1-½ inches, which is good.
Now, let's enter into those standout features that make it so premium and get you to pay the extra price after Milwaukee M18 2630-20.
Whenever you will be done with the cut, it will provide a break to itself automatically. And as the electric braking system goes, it's one of the efficient and safest braking systems out there.
To make it a customer's favorite, the handle of this model comes with a soft grip that will not slip even when your hands are wet. To ensure further safety, there are magnesium guards on both top and the bottom side. The duty of these features is to keep the saw protected when there is an accidental bump or a sudden drop from the hands.
Considering that, we are labeling it as one of the safest models of portable circular saw out there. And the extra price that you might be wondering about, is exactly for these extra layers of safety and usability.
What We Liked:
3500 RPM of rotational speed.
Electronic braking system.
45 degrees of angular cut.
The handle has got a soft and comfy grip.
Magnesium guards on both top and bottom sides.
What We Disliked:
It's a premium model that costs quite high.
Best battery circular saw Buyer's Guide 2021
At this point in this discussion, we'd go through a number of important factors that we call 'buying considerable'. If you don't know what purpose they serve, then it goes like these-
Considering these factors in mind, you can literally bring the best investment after a circular saw into your garage. So, take a few minutes to check our buying guide that will hone up your decision-
The Motor Power:
No denial of the factor that the motor is the main reason why a circular saw exists. So, look at the type of motor(brushed or brushless) and make sure the RPM is good. If it's a high RPM value, then it can make a quick cut for you. In case you don't need so, stay with mid-level RPM.
Another thing that comes with the quick cut is- the material of the blade. You see, not all blades can survive high cutting operations through them. So, if you want the RPM high, make sure the blade material is something as tough as carbide or steel alloy.
The Comfort and Safety in Using:
It's not something technical, but it's of no less importance as well.
By comforting features, we're addressing having a comfy handle with some grip. It will prevent accidental slipping off or bumping in this way.
Another thing that comes with this is the safety features. Usually, measures like magnesium safety guards, automatic braking, over-charging protection, overheating protection, etc come as safety features.
If you're not an expert in handling circular saws, we would recommend having as many safety features like these in your saw.
The Charging and Battery:
In terms of battery size, there is no big difference between 18V and 20V batteries. But if you care about how long you can run a circular saw, you have to choose the bigger battery. But bigger batteries are bulker as well.
Also, keep the feature of fast charging capacity in mind. If you want to use it on a continuous basis, you better have a replacement battery of the same kind as well.
People ask before buying the best battery powered circular saw:
Question: Which is the best kind of brake in a circular saw?
Answer: If you ask about safety, having an automatic brake is the best thing you can get.
Question: Do I need to change the brushes of the motor?
Answer: To enhance the efficiency of the saw, you should change the brush of the motor on a regular basis.
Question: What protective measures do a good circular saw come with?
Answer: Usually, there are safety guards, overheat protection, overcharge protection, and protection against bumping and accidental drops in circular saws.
Question: Is it good to have a tote with the circular saw?
Answer: If you are in need of a space to store the saw in peace while you're outdoor, it's good to have one.
Bottom Line:
Alright friends, that's the end of our 2500 word guide on best cordless circular saws in the market. We think you have cherry-picked one or two of the models from the list of 5.
Before you make the purchase, make sure that what's in the package and what is not. Often, there are no batteries and even no battery chargers as well. So, look at the whole picture before you get your wallet out and pay for it.
Good luck and happy woodworking!
Learn: