Budget matters!
With an expensive price tag, you'll get away with the most notable features. However, when you're on a budget, you'll miss out on some key features.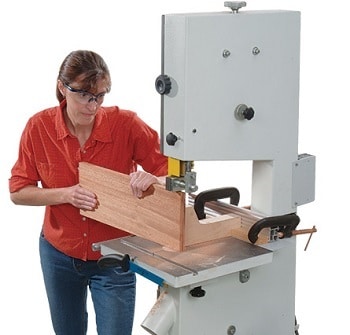 And, it all comes down to the point where you'll get the most key features at your specified budget. We get it, almost all of us try to stay in the middle point where we don't have to spend a lot and still not miss out on most key features.
If that's the case then you'll love our take on the best bandsaw under $1000. Here, in this article, we've analyzed and researched for about 3 weeks. Finally, we've brought this guide out with the correct bit of information.
Most importantly, we've tried to maintain the price-quality ratio for all the products on the list. And, we've stayed neutral and highlighted some of the key pros/cons too.
And, if that's not enough, we've provided some key insights regarding the key buying factors needed. By knowing them, it'll be quite easier at reaching a decision.
So, let's not waste any more and begin with the quick comparison table-
Top 5 Band saws Under $500 & $1000 in 2021
Reviews of 5 Best Band Saws Under $500 & $1000
---
1. JET JWBS-14CS – Best 14 inch Bandsaw
---
Starting the list with an electric corded bandsaw- JWBS-14CS from the brand Jet. Out of all the products we've tested and researched, this one came out on top. But, what could be the reason? Perhaps, the product gives a lot of benefits at a lower price.
So, let's look at the key features and benefits out in-depth below-
The first thing you'll notice about the product is the tilting table. Here, the USP of this product is the 15 x 15-inch iron-table. As the table offers a lot of space to work with, you can easily perform a variety of works there.
And, it doesn't end there. The table can be tilted as well. To be precise, you can tilt the table upto 45-degrees right and 10-degrees left. This provides the space for you to work on different projects and increases flexibility.
Other than that, this bandsaw comes with a 6-inch depth saw capacity. Here, the capacity makes it easy at cutting thicker and larger pieces of wood.
Now, let's talk about the construction of this bandsaw. With an iron construction, the bandsaw provides a lot of room for rigidity and strength. But, the iron construction doesn't contribute to the strength only.
As a matter of fact, this construction works at reducing the vibration of the bandsaw. And, what benefit does that have actually? Well, having a lower vibration means that you can smoothly perform your work.
Moreover, it'll contribute to the consistency of the works and even on the optimum control. Besides, the balanced wheels on the bandsaw spin without the need for vibration. As a result, you can track your blades quite accurately.
On the other hand, the longevity of the saws is improved due to the presence of the polymer blades. Here, the polymer blades are graphite-impregnated. This means they won't get heated quite easily.
Plus, the lower friction of the blades ensures that the bandsaw itself won't get heated. As heat can damage the blades and saw, reducing friction will definitely work its charm here.
Lastly, let's just focus on the powerful motor and the safe design. Power and safe are quite important terms to be focused on when working with a bandsaw. In the end, it won't do you any favor if you're not safe using these tools.
But, that won't be the issue as the saw comes with a blade tracking feature. By using this feature, you can administer where the blades are headed. This means, your hands will be safer if any accidents do take place.
Adding to the safety features, the collection of dust will play quite a part too. The tool will collect all the dust in a confined system. And, it'll make sure there's no dust present that'll block your vision.
Now, let's finish this overview by mentioning the 1 HP motor. Another reason why people favor this product is due to the extreme power it brings. Here, the speedy 3000 SPM of the blades happens only due to the motor. So, you'll be able to ensure safe and faster cuts quite easily.
Pros:
---
The dust will be collected within a system
The powerful motor makes cutting quite easy and effortless
Provides a lot of space
Allows working with different projects
Blades don't get heated easily
Durable and will last for long
Lower vibration ensures smoother operation
Cons:
---
Dust collection isn't accurate always
---
2.Best bandsaw under 1000 – WEN 3966T
---
Bringing in another 14" saw on our list- WEN 3966T band saw. The best part about this saw is the balance between portability and power. But, there are other aspects to this saw too. So, let's check them out-
First off, safety is ensured completely due to the presence of the blade guards. The blade guards work at protecting the fingers from the blades. Hence, you won't have to worry about messing it up and losing your fingers in the process.
Other than safety, the blade guards work at ensuring precise cuts all the time as well. Another impressive factor about the blade guards is that they're adjustable. So, you can adjust them easily without any hassles.
In accordance with the blade guards, the upper housing of the blades contains a tension gauge. Here, the tension gauge works at correcting the tension of the blades. As a result, you'll get effortless cuts every time.
As we're done explaining the safety and precise cuts of this bandsaw, it's time to introduce you to the sheer power of the motor. With a 9.5-amp motor, this bandsaw ensures that it's much easier to work.
Apart from ease of work, it promotes smooth functionality also. But, how may you ask? Well, the sharp blades with the power of the motor make sure you can ensure wider and deeper cuts even with the toughest of woods.
Besides, you'll have the option of choosing the speed of the motor. To be precise, you can choose between 3280 or 1480 FPM. So, you can carry on your works with different complex projects.
Similar to the previous product, this comes with dust ports and even navigation lights as well. The dust ports make it easy at clearing off dust and debris from the blades. So, it contributes to navigation to some extent.
And, the navigation lights will make sure you know where the blades are headed. So, you can administer your work easily.
Pros:
---
Blade guards make it easy at attaining precise cuts
Blade guards protect the fingers
Tension gauge works at correcting the tension of the blades
Makes it easy to get effortless cuts
Lights in the bandsaw make it easy to navigate
Cons:
---
Blade changes aren't easy
---
3. Best Bandsaw Under 500 – Rikon 10-305
---
Presenting the first 10-inch bandsaw of the list- Rikon 10-305 bandsaw. It doesn't matter if you're a professional woodworker or a hobbyist- this bandsaw is for all. Hence, we've put it in third place on our list. But, wait, we've got a lot to show.
That said, let's just get right into the features-
First things first, the durable steel design of the bandsaw makes it quite strong and stable almost all the time. And, to make things even stronger, the plates of the bandsaw are made of steel as well. So, it adds up to the overall stability and strength of the saw.
When compared to the other bandsaws in the market, this one takes the lead due to the steel plates. Here, many manufacturers put in plastic frames. Whereas, this company has taken strength to a whole new level by adding steel plates.
Now, let's talk about the cast table. And, guess what? It's made of iron as well. So, it's tough and won't get damaged easily. As we've mentioned about the strength of the table, we'd like to give an idea about the space.
The table comes at a 13-¾" by 12-½" surface. So, you'll get a large area to carry on different kinds of projects. But, don't worry, the area won't creep up in your normal space as well.
Similar to the previous two products, this one comes with quite a capable motor. In fact, the motor will make sure it'll perform all the given tasks in a smooth manner.
To be precise, the 1/3HP motor is enough in order to complete most of the tasks at a fast pace. Fast or not, the motor will ensure that the blades have enough power to finish different sets of projects in no-time.
Other than that, you can make simple tweakings in the bandsaw quite easily. But, how? Well, the adjustable post guide in the bandsaw makes raising and lowering the post height quite easier. In fact, you can just perform these functions with a handle turn.
So, adjustability will never be an issue and you can use the bandsaw in your own way. Moreover, you can even do freehand functions using this saw. And, how can you do that? Well, just simply remove the rip fence and it'll allow you to perform handwork easily. 
In the end, this bandsaw is quite easy and simple to use. Furthermore, it provides incredible versatility as well. So, you can use it as you want in order to achieve effortless cuts.
Pros:
---
You can perform minor tweakings in the saw.
Ensures easy and precise cuts
Adjustability can be made easily
The motor provides enough power to perform different sets of works
Cons:
---
Doesn't arrive with a stand
---
4. Delta 28-400 14 inch Band Saw Review
---
As we're at the end of the review section, we've decided to review another steel-framed bandsaw. Yes, we're talking about the 14" bandsaw from the brand- Delta.
By now, we've given an idea about the construction. So, let's break it down in detail. Here, the steel design of the bandsaw contributes to durability and overall strength.
But, that's not all the benefit you'll get due to this steel design. Another benefit is that it'll reduce the flex to quite some extent.
Moving on, this premium product feels great as it has a polished superior finish. Plus, the aluminum below provides a lot of stability on the table. So, it won't wobble when you're working.
Now, let's get down to business. The 1 HP motor makes sure you'll be able to conduct this product at two different speeds. And, that'll allow you to work on various projects quite easily.
Lastly, it provides the option of tilting the table. So, you can provide a touch of uniqueness in your cuts rather than settling for the same old straight cuts.
Pros:
---
Makes cutting easy
Has a durable design that makes the saw long-lasting
Comes with a polished superior finish
Provides a variety of cuts
Reduces flex in blades
Cons:
---
Changing the speed isn't easy
---
---
5. Rikon 10-3061 10″ Bandsaw Under $500
---
---
Ending the list with another product from the band- Rikon. Even though this product and the previous one discussed have the same size, there's a difference in the motor.
Other than that, there are some key differences too. So, let's have a take on the differences as well as the similarities.
First off, let's find the differences in the motor. This particular product comes with a 1/2HP motor. Whereas, the previous Rikon product came with a 1/3HP motor. However, this motor is still capable enough to carry a variety of projects.
Speaking of carrying different projects, the blades are able to power through any given task. This is due to the 2-speed functionality of the blades. So, it doesn't matter what tasks you'll throw at the blades, they'll finish it easily.
Similar to the previous 10-305 Bandsaw, this one comes with a dust port too. So, you won't have to worry about dirt accumulation on the blades. Plus, it has iron tables that provide a 45-degree tilt.
Thus, you won't have to settle on straight cuts only. If you want, you can introduce a variety of cuts due to this feature.
Now, let's introduce you to the main selling point of this bandsaw. It's a compact design. Here, the design allows you to carry the saw to any place if you want to. So, portability won't be much of a problem.
Pros:
---
Can be transported easily
Provides the option to have varieties of cuts
Doesn't allow dirt accumulation
2-speed functionality ensure easier cuts
Powerful motor promises effortless cuts
Cons:
---
Toggle cam doesn't grip well
Consider before buying the Best Bandsaw Under $500 & $1000
So, as we approach the end of this article, we have a slight concern. No, we're not talking about the products anymore. We've finished discussing them completely in the review section.
However, there could be a slight problem in processing if you've read everything above. And, what's that?
Well, if you're about to read almost a mountain of information at a glance, missing out on key information can be a matter of time. Plus, it's not going to be a pleasant experience if you don't know what factors to focus on.
This makes the buying decision even harder than in the first place. So, in order to make things a bit more pleasant, we've introduced this buying guide. And, what's in store here?
Well, we've made sure to provide a list of important features that'll make the buying decision worth it. If you know what to focus on, it's going to be easy to shortlist the best product. Care to give it a thought? Let's begin-
Size of bandsaw:
If you're someone who's pretty serious about woodworking then settle for the big boys. Normally, it'll be okay to go with a 10-inch bandsaw. However, if you're trying to take your woodworking skills to a whole different level, invest in a 14-inch.
Even though most of the woodworking projects can be done just fine using a 10", getting a bigger one will provide advantages.
Here, by using the 14" one, you can take multiple projects without worrying whether they'll fit into the saw or not. Plus, you can work on thicker and wider woods quite easily.
Bandsaw Blades:
Bandsaws won't work without the blades. Hence, it's more important to invest in higher quality blades so that they don't need to be replaced. As blades have the tendency of breaking or bending, it's better to keep a track of them.
And, you can do this by investing in the bandsaws that have the blade tension gauge or the tracking features.
What this feature will do is, track the condition of the blades. So, you'll know when to replace them without putting them under more friction.
Other than that, the tension gauges work at correcting the tension of the blades. So, they won't bend easily.
Motor Power:
Motors keep the blades and the bandsaw performing well. If you don't have a powerful motor then your saws won't work properly. Normally, 1 HP motor will do the job of powering through different tasks without a sweat.
Dust Ports & Lights:
Well, this point is about navigation. But, how do dust ports work at navigating? The ports store the dirt and debris. So, it doesn't get accumulated on the blades. As a result, you'll have a clear view of where the blades are headed.
And, the lights work at illuminating the path of the blades. So, it'll work at navigating your work.
Bevel Adjustment
Bevel adjustment of the saws helps at providing a bit of variety in the cuts. By tilting the bevels, you can adjust the angles. By doing this, you can ensure angled cuts rather than plain old straight ones.
So, go for the ones that provide the option of bevel adjustment upto almost 45-degrees.
Safety Features:
Safety features are one of the most important buying factors in a bandsaw. Well, you don't want to lose a finger while working, do you? If that's the case then invest in the bandsaw that comes with tons of safety features.
One feature is the blade guards. Here, the guards will make sure your fingers won't accidentally enter into the blades. So, your fingers will be protected at all times.
People ask before buying the best budget bandsaw:
Question: What does a bandsaw do?
Answer: Normally, a bandsaw is used for cutting thicker woods and limber. Even though they're used for irregular cuts, they can provide curved cuts as well.
Question: What speed should the bandsaw run at? 
Answer: Well, a bandsaw can run at a normal speed of 1000 FPM. But, it can go higher than that depending on the motor.
Question: Are band saws a worthy investment? 
Answer: Yes, band saws are worth the investment. Here, they work at cutting down thicker limbs of trees. Plus, they can provide a variety of cuts on a variety of projects.
Parting Words
That's been it from our side. We're hopeful that you've achieved the Best bandsaw under $1000 by reading our information.
Even though there are better bandsaws in the market, you'll get these ones at a budget. And, they bring a lot of benefits within the budget.
So, why don't you give it a try? Good Luck!