There was a time when trimming up a tree was a very tough and time-consuming job. But with the aid of a pole saw, it became the easiest job on earth.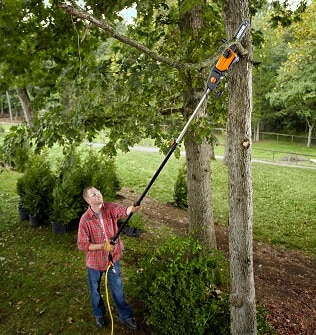 A pole saw is a gadget either battery-powered or gas-powered used to cut the tree branches. It is a very easy and efficient way for trimming trees. Also, it saves a great amount of time.
Interestingly, you don't need to be a professional to handle this equipment. So if you want to trim the trees around your home, this piece of equipment is a great option for you.
Now, if you are a beginner and thinking to work with this, I am here to guide you. Walk with me to know how to trim trees with a pole saw.
Things you need to remember before you begin:
Before you begin with the trimming operation, you need to ensure few things.
First of all, you need to make sure your working area is clear. That's because the fallen trees can be hazardous. So, it is important to restrict people's movement in that area.  
Next, make sure the tree you planned to trim is free of electric wire. In case you cut the electric wire, it could lead to a serious problem.
Also, make sure the tree is free from the bee's nest. Otherwise, the bees can cause you serious trouble.
Make sure your pole saw kit is well set. You will find a manual containing instructions on how to set up the parts. This can help you in this regard.
Alongside do not forget to adjust the chain tension of the cutting head pole. You also require chainsaw bar oil which does not come with the kit. So you need to order it separately.
Finally, you need to get all the protective gear such as helmets, glasses, and gloves. Because trimming trees is a dangerous task and may injure you. So, make sure to wear these protective gears for your safety.
In addition, you can keep someone to watch you. This will enhance your safety.
Trimming trees with a pole saw:
I hope you ensured the above-mentioned things. Now we are ready to go. Let's get started with how to trim trees with a pole saw.
At first, you have to select which type of branch you want to trim. Small tree branches are quite easy to trim. For big branches, you need to follow some extra steps and precautions.
However, in all types of trimming, you need to place yourself in a good position and hold the pole saw vertically.
Next, you need to place it in the intended branch and proceed with the operation at a 90-degree angle (perpendicularly) to get some favors from the gravity.
For small branches, you may require to make 3-4 cuts. However, you can also cut the whole thing at once. It is quite easy to trim small branches. But for long branches, you need to follow some extra steps.
Before you go for trimming big branches, you need to adjust the height of your pole saw. The middle part of the pole saw is the extension part. So you can easily adjust the height according to your need by moving it.
Now, you need to clean the small sub-branches of that big branch. The aim is to reduce the weight of the branch.
Now go for the big cut but not at once. At first cut 2-3 inches from one side and another 2-3 inches from another side. Finally, go for the big cut.
Do not cut at the collar because it contains some cells which help the cut to heal. However, you can also use latex to cover the cutting site to prevent disease transmission.
Clean the fallen branches before going for the next cut. These fallen branches would be very useful as firewood.
Also, watch out for the fallen branches precisely. These fallen branches may injure you. We would recommend maintaining a good distance from the operation site to avoid any unwanted incident. 
FAQS:
When trimming a tree where do you cut it?
You should cut the stem collar of the branch side of the trees. Do not cut the collar directly. It interrupts in healing the cut side.
Can you use a pole saw as a hedge trimmer?
The hedge trimmer and pole saw are very similar. So instead of a hedge trimmer, you can use the pole saw. However, a pole saw is a much more powerful piece of equipment. So, you need to be careful in this case.
Final Words:
At first, you may find it a bit difficult to use this equipment. However, with time you will discover it as the easiest task on earth.
I hope now you know how to trim trees with a pole saw. If you still have confusion, you can visit YouTube for some practical examples of this operation.
Related Post: